An excuse letter written to the boss to allow working from home is a request from an employee to work remotely if they are having trouble reaching the workplace. This request is usually submitted in the form of a formal letter to the boss, supervisor or the human resource department, depending upon the company's requirements. In some cases, an employee may be unable to come for days, weeks or even months, while in other cases, they may have some personal work to take care of for a few hours, and then spend the rest of the day working from home.
Reasons
Working from home is becoming very common nowadays because a lot of times, work can be done, or tasks can be completed online and usually, companies don't have an objection if an employee is working remotely. In fact, in a few cases, it has been determined that the overall productivity increases if the flexibility of working from home is provided to the employees. There can be many reasons for working from home:
Being sick or having an injury
Family matters that need to be taken care of.
Road Hazards or inconvenient commute (flooding, snow, etc.)
Taking a day off or a need to take a break from a hectic travel or work routine
Relocation
Temporarily working during annual vacations or off days
Things to Consider
While writing the letter, the following things must be kept in mind:
The employee must be aware of the company HR policies, regarding the leaves Summary Plan Description.
Providing a brief explanation of the reason for being unable to come to the office.
A strategy must be provided about how the job or work responsibilities are going to be met.
Providing a definite time period of your absence.
A reassurance of being accessible to internal and external stakeholders.
In case an employee is going to be absent for a longer period of time, for weeks or months, necessary documentation should be provided to support the request, for e.g. medical report, in case of health-related issues.
Sometimes information security is a concern, if there is a chance of confidential data being hacked, it is advised to consider this factor and inform the concerned authorities.
Writing the Letter
The letter should state clearly about what the requests are; whether it is stating the specific time required to work from home or the way you are going to handle your work obligations and work-related commitments. The employee should provide the contact details so colleagues can connect when needed.
Format
Subject: what the letter is in regard to.
Contact information: Name, Title, Address, contact number, email.
Date.
Recipient Information: Name, Title, Company, Address.
Ask for permission according to the policy of the company.
Offer some compensation. Let the company know you are willing to make up for your absence.
Do not go into too many details about the reason for being absent. Keep it brief and to the point.
Complimentary closing: Regards, Sincerely, Respectfully.
Signature.
Sample Letter
Subject: Request to work from home
Name
Date
Dear Mr. Smith,
I had an accident yesterday, on 22nd November, and injured my leg. My doctor has advised me to bed rest. I will not be able to come to work for the next two weeks. Therefore, I will be working from home and will return to the office on the 6th of December, 2019.
Meanwhile, if you need anything from me, I will be reachable by email and phone at any-time, during the working hours.
I have attached the reports from the hospital along with the doctor's prescription.
Regards,
Emily Blunt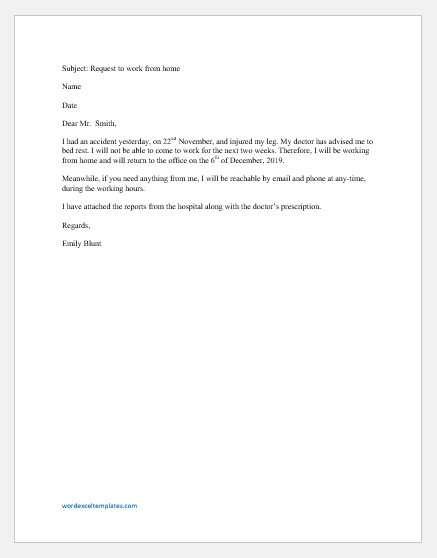 File: Word (.docx) 2007+ and iPad Size 17 Kb |
Download
View more emails –>
---