An apology letter to the boss for poor attendance is a letter addressed to the employer/boss and is written by the employee who has not been attending work regularly for a certain time. If an employee is often absent, he is unable to work properly and show results, and his productivity and ultimately the company's profitability gets affected. This is why, usually, companies are strict when it comes to the attendance of the employees. The attendance policies of the company are even stated in the employee handbook.
However, if the short attendance has occurred only for a short time period, and that too because of a valid reason, the employee can write an apology letter and communicate to his boss about the issues and reasons behind his absence. If he has a justifiable explanation, the employer might consider it and accept his apology. Nevertheless, after the letter, the employee has to show in reality what he has committed to in the letter and improve his attendance. Else, the employer might be forced to take some harsh steps against him, and the apology letter would go in vain.
The apology letter can be modified as per the employee's reasons and duration of a shortage of attendance. However, generally, the following details are included in an apology letter to the boss for poor attendance:
Date.
Details of the employer/boss.
Details of the employee.
Shortage of attendance, including the time period.
Reasons behind the absence.
Effects of absence and realization of mistake.
Apology.
Seek forgiveness.
Guarantee improvement in attendance.
Show gratitude for understanding.
Salutations.
As it is an apology letter, its tone should be polite, formal and professional. In addition, the words and apologizing expressions should be chosen carefully. Owing your mistake is always a key point in writing such letters if you want to increase the chances of acceptance of your apology by your boss.
Sample Letter
Date
Name
Address
Dear Ms. Jennifer,
This letter is being sent to you to apologize for my poor attendance over the six-month period of January-June, 2019.
Since last year, my grandfather was suffering from kidney issues and needed dialysis twice every week. Before, my father was living here in New Jersey, so he used to take my grandfather to the hospital. Then he got transferred to Maryland and the responsibility fell on my shoulders from January. I tried to inform the HR department, but they were not allowing 2 leaves in a week. However, I did not have any other option. Sadly, my grandfather did not survive and died in June 2019, and we went to bury him in our hometown. These are the reasons why my attendance is short since January.
I highly apologize for the inconvenience caused on my part. I hope you understand and accept my apology.
From now on, I will maintain my attendance to the maximum.
Regards,
Joe Green.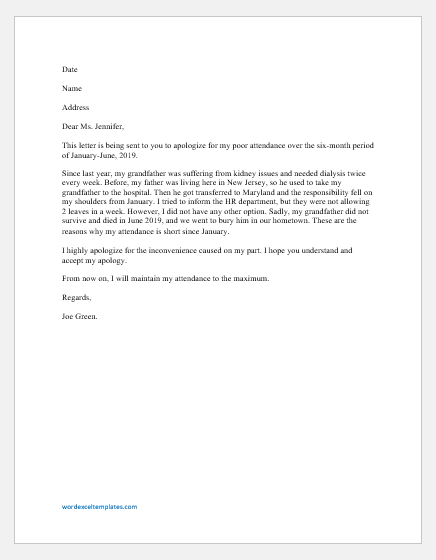 File: Word (.docx) 2007+ and iPad Size 20 Kb |
Download
---