An apology letter to the boss for poor performance is a letter written by an employee who has not shown good performance over some time. This document is addressed to the employer/boss, in which the employee apologizes for his bad progress and affecting the company's productivity and profitability.
An organization expects its employees to show results, as the employee's performance directly affects its profits. However, if an employee has a valid reason behind the poor performance, the organization may give him some slack. Nevertheless, the reason and explanation need to be communicated to the employer by the employee properly. One of the best ways for this formal communication, that can be chosen by an employee, is writing and sending an apology letter.
If the employee's poor performance has been experienced by the organization only for the short term, the chances of acceptance of his apology are high. However, if the scenario has influenced the organization to a great extent, the employer might not give much importance to his apology letter. The severity of the situation affects the information that needs to be included in an apology letter. For instance, if the employee has shown good results in the past, but his current performance is not good, he can give reference to his past performance to make his apology valid.
Generally, the following details are included in an apology letter to boss for poor performance:
Date.
Details of the employer.
Details of the employee.
The issue of poor performance and its effects.
The reason behind the poor performance.
Apology.
Seek forgiveness.
Reference to good past performances, if applicable.
Guarantee improvement.
Salutations.
The task does not end when the employee sends the letter. Rather, the employee has to show good performance and what he has committed in the apology letter.
Sample Letter
Date
Name
Address
Dear Mr. Jim,
I am writing this letter to apologize for my poor performance over the last few months.
I was on maternity leave until the end of December 2018. When I came back in January, many new projects had been acquired and the team was dealing with various clients. It took me some time to get back in line with everything. Alongside this, I was managing my baby and his babysitter arrangements as well. Due to this stress in personal and professional life, I was unable to manage both and resultantly, my performance at work suffered, affecting my team as well as the company. I know I should have been able to manage both, which is why I want to apologize to you.
I have been working with this organization for five years and I always have been a hardworking and dedicated employee. You can even review my past employee evaluations. I will try to bring those evaluations back. I ensure that you will see my improved performance over the coming months.
Thank you for your understanding. I hope you accept my apology.
Regards,
Emily William.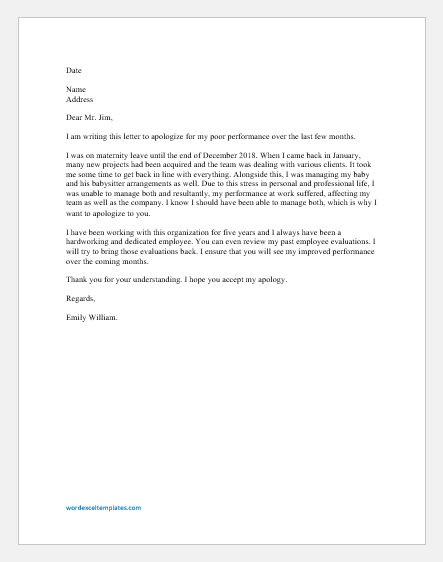 File: Word (.docx) 2007+ and iPad Size 28 Kb |
Download
---