Businesses are run by hundreds of employees working day and night to achieve the goals set by higher administration. Employment of these employees is based on certain parameters which may include knowledge, experience, and personality. All these parameters categorize employees into ranks and departments thus, attributing them tasks based on their capabilities. These employees lay the foundation of all multinational companies and businesses.
Every employee is recognized by their unique identification which is displayed on their identification cards. These cards are worn by every employee on daily basis and provide basic information about an employer within that organization. At the workplace, working with hundreds of employees, every employee is recognized based on their job description and ranks which are also mentioned on identification cards.
Holding basic details
Identification cards, also known as ID cards, are small-sized cards that provide basic details about the cardholder. These identification cards are a necessity in every workplace either small or big. Contents of ID cards may vary from one workplace to another based on their requirements and priorities and it is majorly used for displaying minor details about an employee.
Description on the card
Contents of office employee ID cards are very simple and mentioned below,
Name of employee
ID number of employee
Rank
Job description
Name of organization/office
Address information
Contact details
Social media handles
These ID cards may include other information based on the responsibilities of work and priorities of the employer. Usually, the contents of an ID card have the above-mentioned details about an employee.
Professional designing
The design of the identification card is chosen wisely because most of the time all employees of the company wear the same design with their information. A template is decided by the organization, and it is applicable to every employee.
The design of identification card differ based on the quality and type of work done by a particular company or business. Businesses related to paints, colors, and art have vibrant identification cards to induce those vibes in their potential customers. Similarly, businesses dealing with serious matters of economy and stocks just have the simplest identification card so that it should only serve the purpose of providing introductory details about employees.
Modern designs by graphic designers
Design is mostly chosen by graphic designers, hired by the company for making a template identification card. Modern designs include pictures or images of items related to the business. The major effort is required in giving the correct space to every item of the design so that it does not look like a mess. Designs may also include gradients or 3d animations, flowers, or any other design to complement an identification card.
The Templates
#1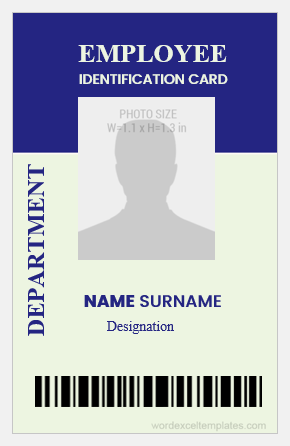 This is a photo ID card with a vertical design that enables the user to input the details more appropriately. This design has a completely professional look. Many businesses would love to use this card design while creating photo ID cards for their employees. Employees can wear this card around their neck that hangs vertically.
#2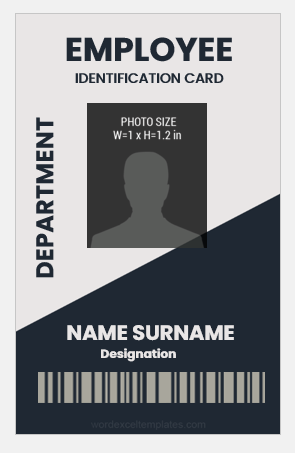 This card design is intended to provide as much detail about the cardholder as possible. The photograph of the cardholder and information about him beneath the photo makes the card extraordinary. It is one of the best designs to be used in an organization where the photo of the employee as well as other details has significant importance.
#3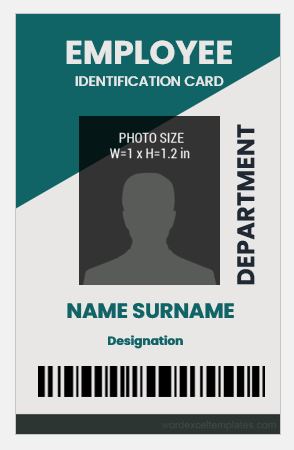 This photo id card design has a unique look with a catchy background of grey in color which dark grey and blue colored text on it. The card has a design in the background that can be seen from the sides. It is best to be used by the organizations giving more importance to the name and photo of the employee.
#4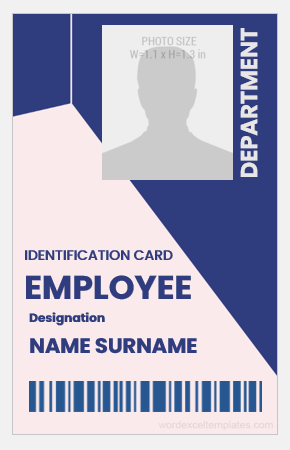 A photo ID card with vibrant color and design in the background is best for people who want to bring some uniqueness to everything they do. This card includes a logo at the top that makes it easy to identify from which organization the employee belongs.
#5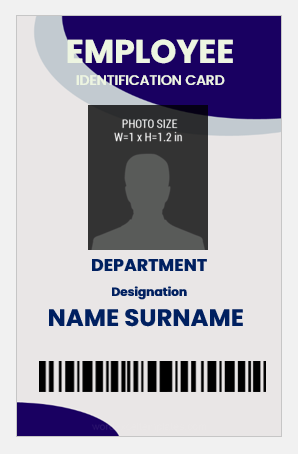 Blue and grey customizable photo ID cards are still very common. This is another card with a bit common but attractive design that has included shades of blue color as well. This card design template enables the user to add the name of the business and logo to the card to make it appropriate to be used.
#6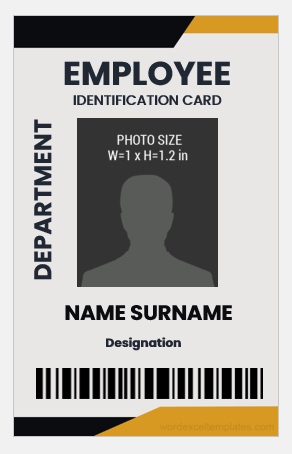 This is another photo ID card with a vertical orientation. Although the design is traditional, it is very attractive since the background of the card has a hue of grey and light colors.
#7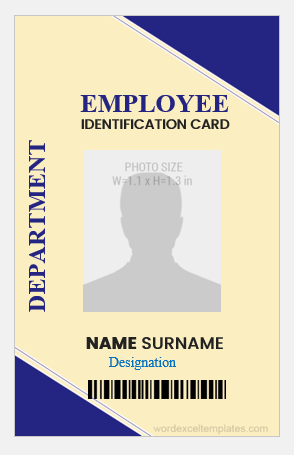 This is another template for a photo ID card that has a decent light color combination with a simple and elegant design. This design is best to be used by hospital staff. It allows the user to add the logo of the company and some other detail along with the picture.
#8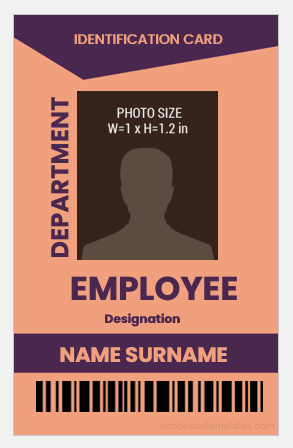 The combination of blue and mild orange makes this card highly attractive. This customizable template also allows the user to change the color combination according to his choice. The boundaries of the card are also well-identified in it.
#9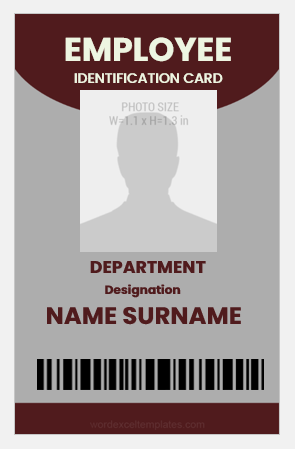 A beautiful design of the contrast of purple and grey imparts a professional look to the template. People needing simple and unique ID cards can download this template.
#10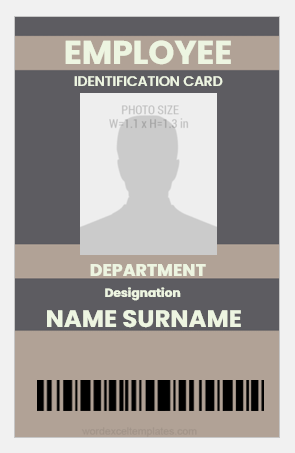 This is a colorful template that collects many details about the cardholder. This template includes the name, gender, and height of the cardholder.
Some tips that should be followed strictly while designing an employee's identification card are given below,
Do not include too many small things in the design because the final picture won't be good.
Make 2 or more templates before selecting a final template to try different alignments for design and choose the most appropriate one.
Use readable font size and style so that it does not create any issues for the reader.