LETTER OF RESIGNATION DUE TO CONFLICT WITH BOSS
RESIGNATION LETTERS
If you have been involved in a conflict with the boss in the workplace which has become so unpleasant that it will not only affect your quality work but also your personal life then you can send a letter of resignation due to conflict with the boss.
If you think that the resignation is the only solution of this conflict then you can write a formal letter of resignation due to conflict with the boss. So, here is a guide which will help you in writing a resignation letter under such circumstances.
CONFLICT WITH BOSS
You may be upset by such situation but you should write a letter of resignation truthfully and formally. Make sure that there should be no grammatical errors in your letter. So, use proper grammar and letterhead. A letter of resignation is a type of business letter which includes around three paragraphs. You should summarize your conflict situation and write it in your resignation letter very briefly. You should provide all the effective dates of the resignation letter. You should add some other important details like when the conflict began? What was the reason behind the conflict? Etc. You should also thank the boss for the job that he has appointed you in his company.  Don't forget to keep a copy of this resignation letter in your record. Make sure that both the HR department and the boss should have copies of your resignation letter due to conflict. The letter should be stated professionally.
PREVIEW & DETAILS OF TEMPLATE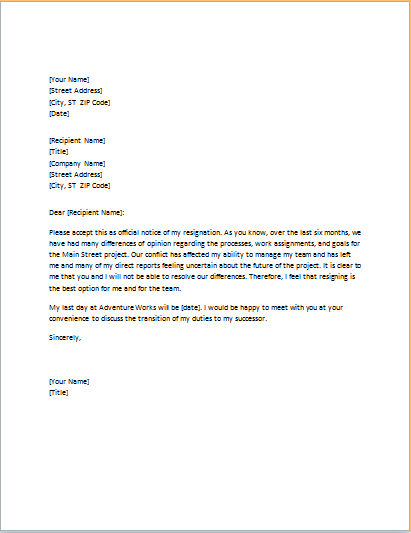 File: Word (.doc) 2007+ and iPad 
Size 24 Kb   | Download
File: OpenOffice (.odt) Writer [Writer]
Size 16 Kb   |  Download
License: ENERGY  (General Use)
(Distribution) by Kate Elizabeth(CEO)