Disciplinary action is taken and the final warning letter is given to the employee working in the organization whose activities are undisciplined or uncompromising. So, discipline is the dire need of every minute organization.
Every organization wants to have well-disciplined and well-mannered staff for working. No organization in the world allows its workers to do ill-mannered activities during work time. If the organization notices any of its worker doing indiscipline activities then it will give him/her final warning notice of his/her indiscipline activities.
It is an action to improve the unacceptable behavior or performance of the employee.
1-
As recently discussed, your performance at work has been unsatisfactory and consistently poor. Your attitude towards your co-workers and seniors is of great concern to us. Your constant refusal to follow instructions from your manager and poor conduct with your colleagues has negatively affected the decorum of the office.
The office environment has been impacted poorly and your teammates work productivity has decreased. In addition, your attendance is also quite short, and you have taken several uninformed leaves from work.
You have been clearly informed several times that you must inform the office management at least 24 hours prior to taking a leave however, you still have taken three uninformed leaves recently. In addition, you come to office late about an hour late every day.
We must inform you that you in violation of at least four company policies at the same time and have shown gross negligence towards the orders from the authorities. To make you understand the severity of the situation we have decided to issue you a last warning.
This letter should serve as a final warning to you and strict measures should be taken against you if you fail to comply with the rules from now onwards. Your contract will be suspended with immediate effect, and you will not be able to re-apply to this company ever again.
Hope you pay heed and take this one last chance to correct your behavior. 
Regards,
Office Management.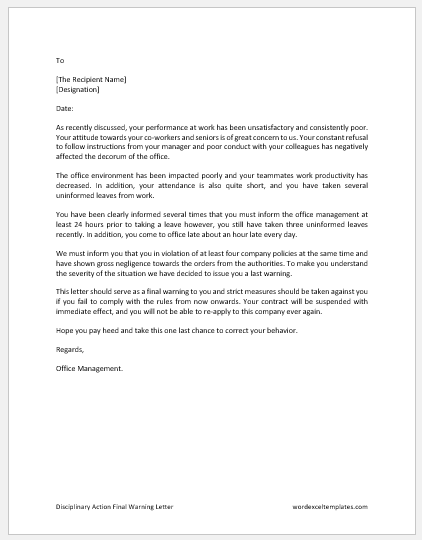 File: Word (.docx) 2007+ and iPad
Size 17 KB
2-
It has come to our notice that you have shown poor conduct in the office and have been involved in a few verbal alterations with your co-workers. According to the CCTV footage acquired from the office yesterday, you pushed an employee out of your way for no apparent reason.
In addition, you were also clearly seen smoking inside the office premises and failed to comply when one of your superiors asked you to stop smoking. You do not take the office tasks seriously and delay the worked deliberately. Mr. Smith, please know that this behavior shall not be tolerated in our company.
We hired you based on a good recommendation from your previous employer however your conduct has been less than impressive at our organization.
We wish to let you know that this is your final warning. You have been given leverage because you are skilled and can perform well at work. During your interview you seemed very enthusiastic about this job. You said you were eager to join this company. However, your overall conduct has been less than satisfactory for the past few weeks.
If you fail to improve your conduct, you shall be suspended from service and won't be given that month's salary either. You must apologize to your colleagues and show up to work in good spirits.
Please this final warning seriously and correct your behavior. We hope to see an improvement in your conduct.
Thank you and regards.
Office management.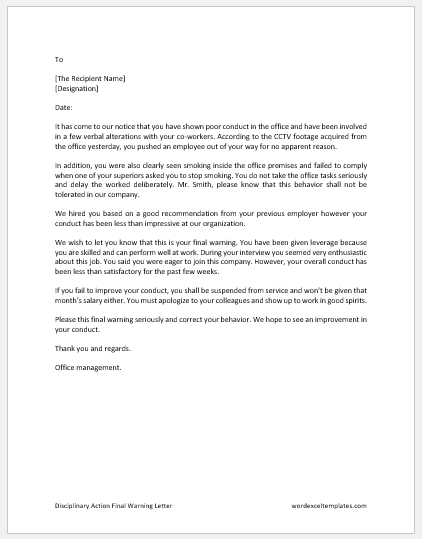 File: Word (.docx) 2007+ and iPad
Size 19 KB