With the rapid advancement in technology life on the planet has taken several turns and the trend seems to be stopping nowhere in the coming years. Among all other things that have impacted our lives for good or for bad, one thing that probably has had the maximum influence on the course of our lives is social media. Irrespective of the type and purpose of its platforms, social media has affected humans' everyday activities to an unmeasurable extent.
People can be caught occupied by social media no matter where they are and, as much as it is a source of spending some informative time online, people using it in places where it should not be paid attention can have serious consequences.
Nowadays, it is very usual to catch people using social media at their workplaces during office hours when they should be busy with some professional preoccupations. If you hold an impactful position in your office, it is likely that you come across complaints about someone who does so.
In such a case, the best course of action would be to intimate them of their careless attitude, raising concern among the employees through a warning letter. 
A warning letter for using social media at the workplace is a letter written by a boss to an employee in which a serious reprimand of the employee is made for his/her irresponsible behavior of spending time and using social media at the workplace.
Given below is a detailed sample letter for such a purpose. You can take inspiration from here and craft your own for personal purposes.
Sample Letter
To,
Mr. XYZ,
[Department's Name]
Subject: Warning letter for using social media at work.
Mr./Miss/Mrs. XYZ,
The purpose of writing this letter is provided by the organization's IT tracking report and a few other eyewitnesses describing your excessive usage of social media platforms during working hours. It has been brought to the higher authority's notice that you spend most of your time in the office surfing various social interactional platforms like Facebook and Twitter rather than focusing on the tasks assigned to you with reference to the important seat that you hold in the organization.
It has further been reported that despite arriving and leaving the office exactly on time, you have been consistently failing at meeting the deadlines and responding to whatever comes under your duty in the time given to you. The reason behind such a careless attitude from your side is supposed to be nothing except your divided focus that makes you spend more time on social media rather than getting work done.
I want to bring it to your notice that the official computer systems along with the activity done through the official internet connection within the organizational premises are consistently being tracked to keep an eye on the activities our staff is indulging in. Therefore, no matter how much you try, you cannot hide your online activity from the authorities.
I hope you realize how hazardous such a careless display of attitude by you could be for the organization's reputation and functioning. Having said that, I don't want to go at length about how actions like this can get you fired in no time.
However, I know your work ethic and this makes me sound sure enough when I say that you will take my warning seriously and would start focusing on what is important during office hours rather than wasting your precious time and endless energy on social media.
Looking forward to a practical response from you in this lieu.
Regards,
IT department head,
XYZ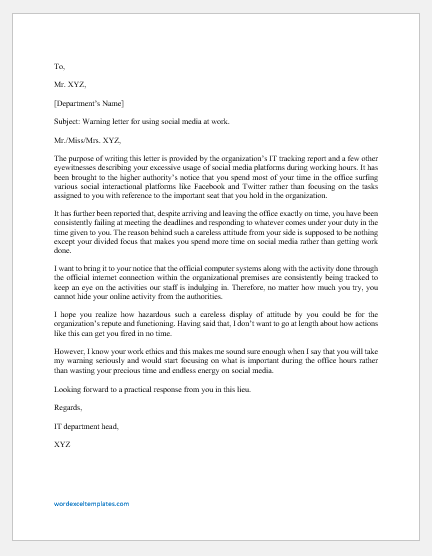 File: Word (.docx) 2007+ and iPad Size 21 Kb |
Download
---