Despite the excessive annoyance associated with the first working day of the week, one cannot deny its significance both in students' and professional life. Even when Monday seems to be an invocation to the grimmer days, the amount and essence of the work organizations get done on Mondays is far more than on the other weekdays. Since everyone returns to their work routine after a well-deserved break, they are likely to have higher energy levels, and this justifies the extra work got done this day.
Bosses and teachers usually plan extra important tasks for Monday and, therefore, it is likely of them to expect a packed house at the start of the week. The meetings with the most important and regular clients, also the most important quizzes are deliberately planned for Mondays so that one can prepare for them on weekends.
On the other hand, regardless of the above-mentioned expectations of the employers and heads, workers and students are likely to skip Mondays for no apparent reason. Most of the time, people spend their weekends partying and traveling in the seat of taking some rest and this results in them being extra-tired on Mondays. Anyone who spends their entire weekend lazily in bed is also likely to feel a little down on Mondays, thus making the decision to stay at home on the opening of a new week.
As much as this kind of carelessness and laid-back attitude is threatening to an individual's productivity, it can bring about a severe loss for a company too. If you are a boss in an office or even supervise a single department, it is your duty to ensure the full presence of your employees if you want to save your company from a detrimental loss in the future.
In the case of one of your employees is not showing up on Mondays from quite a time, you must take the matter seriously and warn them of their absentees on Mondays. You can simply summon them to your office and rebuke over their absence but the best course of action falling under the decorum of professionalism would be to send a warning letter their way. Below is such a draft that you can take help from under such a scenario:
Sample letter
To,
Mr. XYZ,
[Department's Name]
Subject: Warning letter regarding the excess of absence on working Mondays during the office
working hours.
Mr./Miss/Mrs. XYZ,
I am writing this letter to make you aware of your consistent absence from the office on Mondays being a matter of serious concern for the organization. It has been noted by the office manager and me on various occasions that you either did not show up at all or bunk the office around 11 in the morning on Mondays. What further fuels the fire is that you do so without any prior notice or leave application. Even if you don't realize it, your careless attitude can be a cause of severe loss to the organization. Whatever might be the reason behind your absence, you must realize such an attitude cannot be tolerated on an organizational level.
It is, therefore, expected of you not to exhibit your further carelessness and start attending the office regularly.
Regards,
XYZ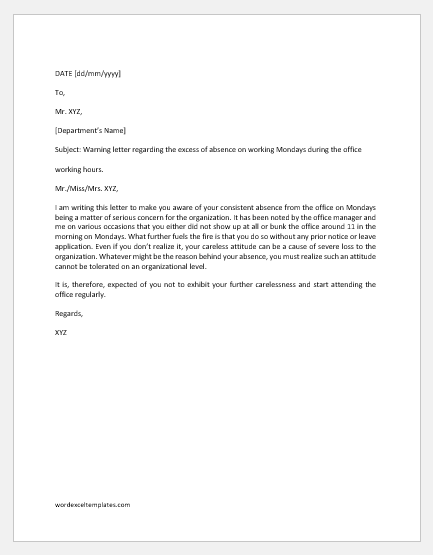 File: Word (.docx) 2007+ and iPad Size 18 Kb |
Download
---