A cancellation letter/email can be written to any organization informing the termination of an upcoming event, a product that was delayed, a service that wasn't up to the mark, or any cancellation of an appointment. Here is an example of event cancellation email, written to communicate the termination of an upcoming event by simply writing to the hotel management.
A person can fall in any appointment or he may undergo an accident, leading him to cancel certain important events of his life. In that case, communication can resolve all your conducts, and writing a formal email will not only show your professionalism, but it may communicate your reason and gesture to the company.
These are some points in hand for you to write a good email:
Provide relevant reason for cancellation
Show your regret
Be sorry
Offer a solution
Ask for refunds
Sample Letter:
To: [[email protected]]
From: [[email protected]]
Subject: Cancellation of [Event Name] booked by [Name]
Dear Mr./Mrs. [Recipient's name],
Please allow me to offer my apology for canceling the upcoming event [Mention the name] which I scheduled on [Mention Date] under the name [Mention name on which booking was made]. I truly adhere to the fact that canceling the event especially at this time can be quite distressful for you and of course inappropriate at my part.
I am fond of your terms and conditions for reservations of events, yet I still feel injudicious for informing you on such short notice. We never thought of situations getting deteriorated and that it will lead to canceling this event. All this certainly happened because of some unavoidable reasons in my family. We may plan another event in the next month and in that regard, I will timely inform you. I regret any trouble that took place on your side because I understand how canceling an event can be disruptive. Although I tried my best to inform you timely, yet again I apologize.
According to your refund policy which I checked on the voucher you provided at the time of booking; the hotel repays [Amount]% of the amount when there are [less than 7 days] in the event. Only in my case, there are [3] days left. In this regard, I ask you to cancel my reservation and provide me [50%] repay. In the worst case, if this policy cannot be applicable, we may postpone our event for next month for compensation. For that, you can contact me at [Email/Contact number] or even reply to me back.
Thank you for hearing out my concern and understanding the matter. I will be highly grateful to you on behalf of all the guests that were to come to the event.
Sincerely,
[Your name]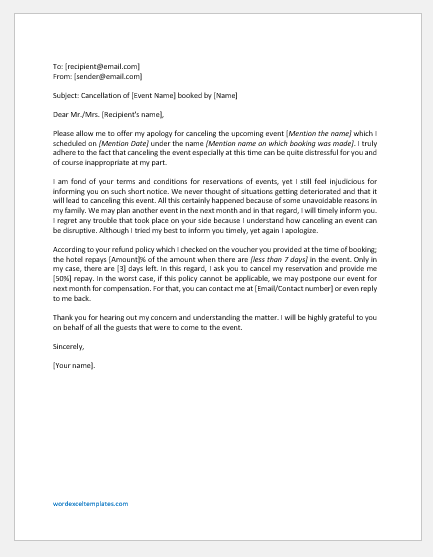 File: Word (.docx) 2007+ and iPad Size 19 Kb |
Download
---