Re: Warning Notice for Unprofessional and Rude Demeanor
Dear Mr. [Name], this letter serves as a warning letter to you and lays out the immediate need for correction in your attitude at the workplace. According to various complaints filed against you in the Human Resource Management Section, it has been reported that your behavior with colleagues and upper- and lower-level staff is not fair.
It has been told to the concerned authorities that you have misbehaved with your immediate boss, i.e., supervisor Mr. [Name], who works in APS-7, on a petty issue of report design. Moreover, your behavior with the lay staff and office workers is not pleasant. They have come up with the assertion that you call them rudely and mistreat them in different ways.
Nonetheless, please note that our company is very sensitive to its policies and working ambiance. We believe in strong teamwork and collaboration to achieve success; thus, we endorse an immersive and cordial ambiance that pushes employees to work hard and achieve goals mutually.
The behavior demonstrated by you breaches our policy and is in direct violation of company bylaws, rules, and regulations related to employees' conduct. The company's directorate of employee affairs looks into such an attitude with grave concerns and deems it to be very unprofessional.
You are required to look at your attitude and correct it immediately. Moreover, you should write an apology message in the Telegram group of our office. If you have any valid reason for behaving in this way, you need to write a formal email to the senior HR Manager, Ms. [Name]. I hope that this letter will be enough to expect a correction in your attitude; otherwise, you will be penalized with fines and policy measures for unprofessionalism and inappropriate behavior.
Thank you.
Regards,
[Name]
[Company]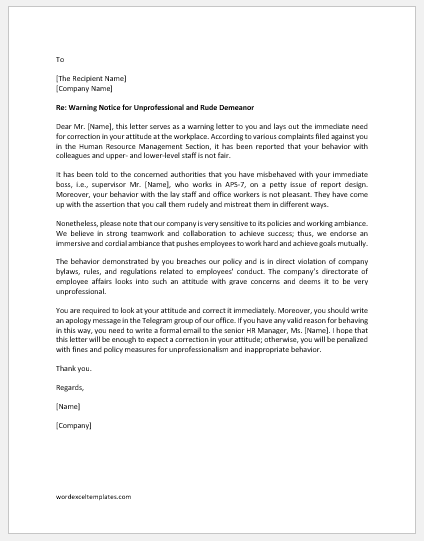 Sample Letter File: 89 KB
#2
Re: Warning Letter
Dear [Name of the Employee],
I am writing this letter as a warning note to you. It has been brought to my attention that your behavior in the office is very offensive and rude, which implies unprofessional and inappropriate behavior as mentioned in the policy book of the company. This letter asks for immediate correction of your behavior by practicing formal yet pleasant communication.
Please be informed that the company takes matters related to the conduct of employees very seriously, as it impacts the entire industry of working by creating an air of discomfort and discord. Moreover, an unfriendly environment not only brings bad air into the office but also impacts the working efficiency of the employees. We have a complete team for each project, and all of them are trained to behave professionally and in a pleasant way.
However, if otherwise, we will take strict measures against employees who do not take code problems seriously. You are warned to correct your behavior and professionalize your sense of communication with the officer; otherwise, a sum will be deducted from your salary as a penalty without prior notice. In severe cases, you can be terminated from the office as well.
You are a hard-working employee, and we want you on board with us, but please note that you have to behave in a pleasant and professional manner to work in this office. Thank you for your understanding, and I hope you will demonstrate immediate correction in your demeanor. Thank you.
Regards,
[Name]
[Position]
[Company's Name]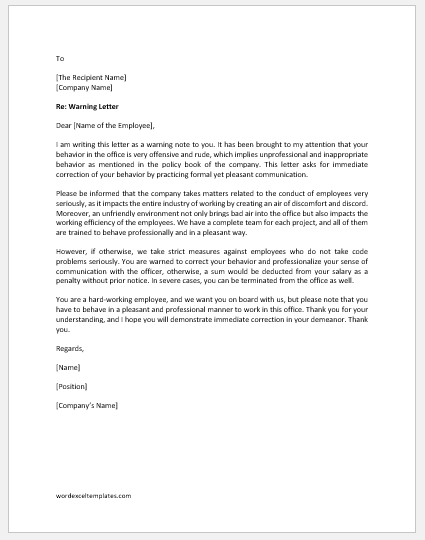 Sample Letter File: 89 KB