All the employees hired by the manager work for the good of the business. Unfortunately, it does not always happen. Sometimes, the company hires such employees that are unaware of moral values and ethics.
Some employees work for many years in the company with full dedication and earn the complete trust of the employer while some are newly hired and the employer does not know much about them.
It must be very hard for you to deal with the employee who has stolen something from the office. Terminating the employee from the job immediately is not a professional approach.
You should conduct some investigation before taking any serious action. If the investigation proves that the employee has committed theft, then you can write him a warning letter.
The severity of theft should also be evaluated. Since the main purpose of writing this letter is to not let the theft happen again, the warning letter should include the consequences of theft on the career of the employee.
This letter is also a proof that the employee was given many warnings before he was terminated from the job.
The letter should be written in simple and easy to understand language. It should be written in such a way that the employee can easily understand that it is a warning letter. You can also ask the employee to provide the explanation letter for this act.
Letter Sample:
Subject: Admonition for Stealing
Mr. MS [Name Here]
The letter is being written to let you know that you have been found committing theft from the office. This letter should be served as a warning letter for this unethical and immoral act of stealing that clearly indicates your unprofessional approach towards the job.
I, being the supervisor of your department would like to warn you personally on this matter. You are expected to show good behavior and professionalism towards your co-workers.
I hereby would like to inform that if you are found stealing anything from the company, the company will dismiss you without prior notice.
Moreover, you are ordered to provide a written explanation of this shameful act of yours.
Manager
[NAME HERE]
Preview and Details of Template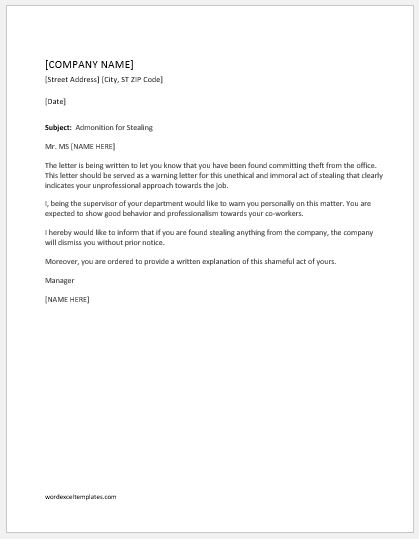 Warning Letter
File: Word (.doc) 2007+ and iPad 
Size 32 Kb   | Download
[Personal Use Only]