When the behavior of an employee is not acceptable in the organization, the employer issues a warning letter to the employee.
There are many situations when the relation of an employee becomes unpleasant with the co-workers. Sometimes, that unpleasant relation results in such acts on the part of the employee, which disregards the job duties and responsibilities of the employee. The productivity of the employee is also reduced when he or she is not able to work peacefully with fellow workers.
Sometimes, the misconduct of an employee with co-workers is not very significant. It causes no serious damage to the interests of the employee. In such a case, terminating the job of the employee is not recommended. Many organizations write a warning letter in such a situation so that these kinds of things can be avoided in the future.
It is the responsibility of every employee to maintain a peaceful environment in the company. However, some employees do not maintain a good relationship with co-workers for many reasons. The warning letter by the employer will alert the employee and he will try to avoid any conflict in future.
The letter should be started with the statement that the misconduct of the employee has become unacceptable and this situation is occurring repeatedly despite multiple verbal warnings.
Moreover, the letter should also specify in the letter that the employee should treat it as a warning from the employer. End the letter with the expectation that the employee will behave good hereafter.
Sample Letter
Employee's name:
Employee's Address:
Date:
Subject: Admonition for Misconduct
Dear Mr. [ABC],
I am writing this letter to warn you of the unpleasant incident that occurred the other day because of your quarrel with your fellow worker. You have been very punctual and hardworking employee to date. However, the company cannot accept this behavior of yours.
If this incident will occur again in future, we will have to take some serious steps.
We will be very happy to see you behaving good and positively with co-workers as per your contract with the company.
Thank you
Yours Sincerely
Preview and Details of Template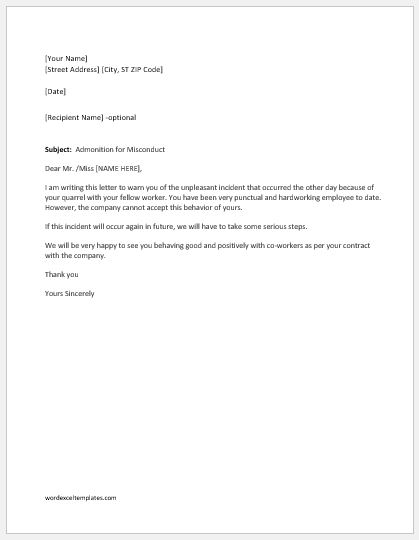 Warning Letter
File: Word (.doc) 2007+ and iPad 
Size 31 Kb   | Download
[Personal Use Only]