Inappropriate behavior of employees is of different kinds or can say that it takes many forms, the most common of these are improper dress and ethics codes. In some cases, an individual may have to avoid an assault or any kind of threatening behavior that can result in violence. Employees try hard to avoid getting involved in cases in which a warning letter is issued.
An inappropriate behavior warning letter is a must for establishing a safe, professional, and secure environment at a workplace. Following are the kinds of inappropriate behavior due to which a warning letter is issued:
Using gendered language
Commenting on the appearance of a co-worker
Discussing religious beliefs
Bullying
Disruptive behavior
Improper dress
Using foul language
When verbal warnings for the inappropriate behavior of the employee don't give a positive result, then it's time to apply the company's policies like issuing a warning letter to alert the person against the complaints made by the staff.
A warning letter is to warn a person to obey the rules of the company and not to make the mentioned mistakes to keep the job safe. A warning letter for inappropriate behavior should be clear and concise, along with the exact reason why it is issued, proofs are also provided in it. An employee is warned that if any staff member complains again, then serious action regarding this will be taken and no excuses will be accepted.
1-
It has come to our notice that you have been behaving inappropriately with your co-workers. Two female workers from your department have placed a complaint against you. In addition, we have received several complaints against you from other employees in your department. You have used indecent words and have acted inappropriately with other people around you.
Not only that but you have also been denied direct orders from your reporting officer and did not submit your work on time. You also refuse any input from your boss and want to do things your own way. We wish to let you know that this behavior will not be tolerated at our company, and it goes against our company policies.
We have decided to issue you a warning letter for your behavior. This warning letter entails a fine of fifty USD and this should be paid in cash to the HR department by 22nd Feb.
In addition, please note that this is your last warning. If any inappropriate behavior is reported against you by your department again, you shall be terminated immediately with no possibility of reapplying to our company. We hope that you will change your attitude and will treat everyone around you with respect.
We also expect you to apologize to the female employees for any grievance they might have from you. We wish you all the best.
Regards,
Office Management.
2-
This is a warning letter issued in your name for the inappropriate and indecent behavior you exhibited during the annual dinner held on 19th Feb. It was reported that you got into a physical fight with one of the waiters and threw a drink at him. You also hit him and injured him gravely.
The people who tried to break the fight have also been injured by you. We are extremely disappointed by your behavior as you are our valuable employee and we have never had a problem with your behavior before. We wish to have a meeting with you regarding this matter tomorrow at 10 am in the administration department.
We expect to see you there and hopefully, you will have a valid explanation of how this unfortunate incident happened.
Keeping in mind your previous work record, we will not be imposing any fines on you. However, if this behavior is repeated on any occasion, it will lead to a fine of 1000 USD and suspension of your contract with the company for an indefinite period.
We expect our employees to follow the rules and regulations of the company and to maintain a peaceful environment in the office. The use of indecent language and threats of violence severely damage the decorum of an organization and affect the productivity of the workers.
We hope that you will pay heed to this and not repeat this behavior again. Please consider this warning letter as a learning curve and make amends.
We look forward to seeing you at the meeting.
Regards
Office Management.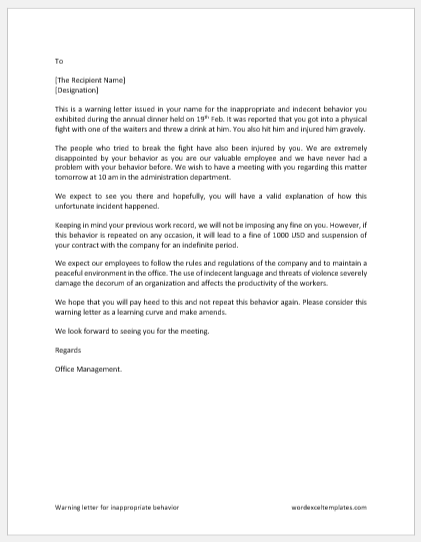 File: Word (.docx) 2007+ and iPad
Size 16 KB