#1
I hope this letter finds you well. I want to express my deepest gratitude for providing me with the opportunity for an ABC job at your company. I was a little nervous before appearing, but the overall environment helped calm my nerves and help me respond rationally. All the interviewers allowed me to open up and share my thoughts. I was given the chance to justify my contradictory remarks, which were well-received by everyone.
Through the interview, I learned about the stature of the company and its many ongoing projects. I have always aspired to be an employee of a well-reputed firm like yours; therefore, it was very important for me to ace it.
I hope the whole interview committee considers me an asset and hires me for this job. I have the required qualifications as well as the skills to acquire such a handsome job opportunity. I performed well during the interview as well. I understand that the shortlisting of candidates takes some time, but I am happy to wait patiently for this position.
#2
I am writing this email to let you know about my emotions regarding the interview. I consider myself blessed to be considered and recruited by such a well-known and established business. I have always dreamed of associating myself with the business in any capacity, but I never imagined being a part of it as an employee.
I understand the criteria that I need to fulfill to acquire an ABC job, and I am hoping for the best. I am aware that the competition for this job must be extreme, but I am all in for it.
I humbly thank all interviewers for providing me this opportunity to appear before them and share my thoughts regarding the requirements of the ABC job and where I see myself in the coming years.
I am so grateful for being given a platform to put forward my views and how badly I want this job. I thank all the interview committee members for their time and efforts in considering me for this position.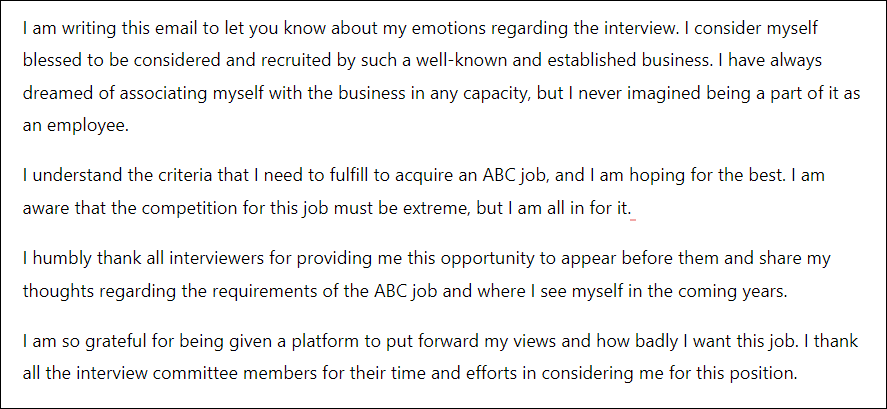 #3
I am writing this letter to express my deepest gratitude for considering me for an interview regarding the ABC job position. I appeared before the interview chamber on the 2nd of this month and have been thinking about all the details that I missed sharing before the chamber because of enthusiasm and nervousness.
While discussing this job opportunity, I shared my thoughts on the economic outlook of our country and how it is going to affect the status of the company and business overall. The conversation was conducted in a light environment where everyone was allowed to share their thoughts and justify them.
I got so carried away by our discussion that I forgot to mention the extra courses and experience I have gained in this field. I would highly appreciate it if all my experience was considered when shortlisting candidates for this job. I have been so grateful to all the interviewers for giving me the confidence to utter my raw thoughts and stand my ground. Thank you in anticipation.
#4
I am writing this email to express my utter gratitude for interviewing me regarding the ABC job at XYZ company. Since then, I have been working really hard to gain more information about the job and the company's environment. I understand that the recruitment process takes time, but based on the interview, I am really hopeful to acquire this job.
I am well aware of all the duties and responsibilities related to this position at a renowned firm, but I am highly confident that I will fulfill my duties with great spirit and enthusiasm. I am really excited to share my skills and experience in achieving the desired goals. I have always looked up this company and the projects that it takes on, but during the interview, I came to know about several other wonderful projects that are about to be completed and represented to the world. Since that time, I have been in complete awe of this company and hope to acquire this job opportunity.
I am patiently waiting to hear from you, which I know can take some time. Kindly feel free to contact me with any type of query.