A discipline violation warning letter is a warning to the employee that does not follow the rule of the organization. It is for the employees who don't take the rules of a working organization seriously. When individuals violate the rule, providing a written warning letter is necessary.
The warning letter for discipline violation is best for small violations such as short attendance or for not performing in a good way. In some cases, the discipline letter allows the manager of the department to warn the employees for the betterment and improvement.
It is best to warn the individuals first, but still, if there is not any betterment then discipline violation warning letter should be given. These letters are not only best for addressing the individuals, but it also provides guidance that people must follow in order to keep their job safe. In this letter, the individuals are warned for not obeying the company policies or if they are involved in behaving in a way that is unacceptable.
Usually, a first warning letter is given to improve the concerning issue and after thirty days, a second warning letter is issued for repetitive violations. Utilizing both warning letters is a great source of checking the progress of the individuals according to the organization's discipline policy. The laws of the company are different for every state, so it is best to ask for advice from the HR of the department and this is also the great way of avoiding an employment lawsuit.
The sample warning letters for discipline violation is present on our website in readymade format.
#1
A warning letter is being issued in your son's name for violation of discipline at the school premises. According to several eyewitnesses, he got into a fight with his fellow classmate Mr. Ryan Jones and beat him for approximately ten minutes.
Your son did not let anyone intervene or let save the boy and instead threatened to beat anyone who tried to come close. As a result, Mr. jones was left gravely injured and with a dislocated shoulder bone. He was rushed to the Emergency room immediately as he was bleeding profusely. 
Mr. Markson, this is not the first time your son has been involved in violent activities. He has been issued a warning letter previously as well for misbehaving with one of his teachers.
I would like to bring to your notice that our school management does not tolerate any violent behavior against any students, faculty, or staff. Your son is being issued a final warning. If he continues to act this way, we will issue an immediate suspension letter in his name and his name will be struck off college rolls without a possibility of readmission at any stage.
We suggest that you have a talk with your son or take him to a therapist. He has been performing well in his exams, but his attitude is completely unacceptable. We suspect he might have some underlying psychological issues and probably could use some professional help.
Regards,
Ms Anna Ryan
School Head Mistress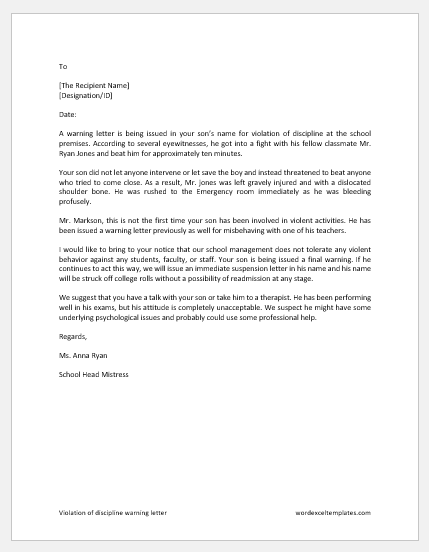 #2
It has come to our notice that you have been involved in violation of discipline at school. We have been informed through several sources that you have been involved in use of illegal substance during school hours and have also been found selling it to other students.
We wish to inform you that use of illegal drug substances is strictly forbidden inside school premises, and you had been informed of strict action hat will be taken against any student who is found guilty of it.
In addition, you have misbehaved with your chemistry teacher Mr. Henry and your biology teacher Mr. Johnathan which is also a direct violation of school rules and regulations.
It is clearly stated on your school prospectus that violation of any kind of campus rules or regulations will not be tolerated and may result in expulsion from college rolls. Considering your recent activities, you have been issued a warning letter and suspension from school for 5 working days. Your parents will have to come to meet us and discuss this matter in detail with the school administration.
The principal would like to have a meeting with your parents tomorrow at 10 am sharp. Consider this as your first and final warning. You will not be given another chance after this. We hope that you will make amends and correct your behavior. We hope to see you and your parents tomorrow for the meeting.
Regards,
School management.
See Also
Warning letter for bad job performance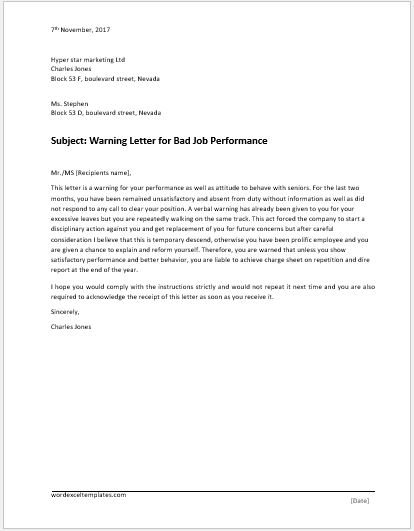 File: Word (.docx) 2007+ and iPad
Size 32 KB
Warning letter for breaking office rules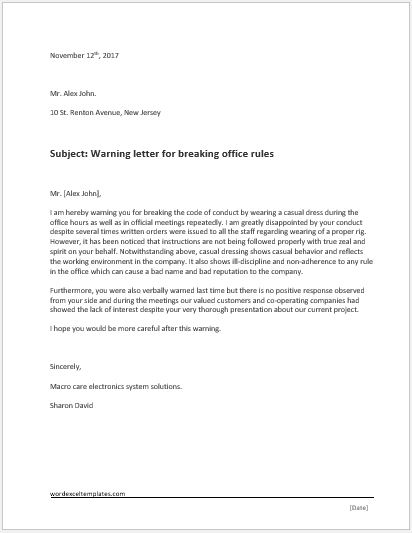 File: Word (.docx) 2007+ and iPad
Size 32 KB