A reference letter is also known as a recommendation letter. It is written to describe the character, skills, and achievements of a person. When applying for a job at any company, a candidate should submit a reference letter. The letter supports his application.
A reference letter for a professional employee demonstrates the applicant's qualifications, work experience, and abilities. The letter can also be written by the supervisors, customers, or co-workers of the company in which you have previously worked. It should be handwritten if possible and convenient.
As an applicant for the job, you must include your current resume and curriculum vitae along with the transcript. A brief description of the job position for which you are applying should also be included in the letter. Information about the company should also be demonstrated in the letter. The letter should be no more than one or two paragraphs. You should explain why you are capable of this position and what benefits the company may get from selecting you as an employee.
An employee should introduce himself or herself in the first few lines of the letter. The letter should include the title of the job of an employee and his role in the company. The status of employment, such as previous, current, part-time, full-time, permanent, or temporary, should be included in the letter.
The date of the applicant's employment should also be included in it. The candidate must describe all of his skills, such as communication and organization skills, in the letter, as this will leave a good impression on the employer.
Sample Letters
#1
I am writing this letter to strongly recommend Mr. ________ for his future employment at XYZ organization. He worked at ABC Company for a period of eight years and made himself successful.
During his employment tenure, he displayed an exceptional work ethic and enthusiasm to achieve his goals. Not only his employer but also his colleagues benefited from his experience. He had a positive attitude towards every situation, which can prove to be a game changer. He has been a valued employee at our company, and we hope that he will prove himself to be a better version of himself in his next employment.
We wish him good luck in his future.
#2
I am writing this letter to officially recommend Mr. _________ for any future employment. He has proven himself to be an asset to XYZ Company over the last decade, but as he pursues his future endeavors, I wish him good luck.
He has shown an excellent display of effort and enthusiasm. No task has ever been difficult enough that it could not be achieved, and because of this approach, he tackled various major projects effortlessly. Due to his resilience and work ethic, he was promoted to the position of manager early on, but he never made us regret this decision. It has been a delight to work with him because of his working pattern.
For further assistance, I would be happy to fill in all the details regarding his employment period at XYZ. I hope that he will continue working with this spirit and make his name in the corporate world.
#3
I am writing this letter to confirm the employment of Mr. ________ at XYZ organization from __/__/__ (starting date) to __/__/__ (ending date). During his employment tenure, he worked hard to get the job done.
He had been a hard-working employee of our organization and took part in many projects. He actively collected data from groups for research purposes and never hesitated to engage with subjects to make them comfortable. His major ability is his human connection, which is very important for data collection; therefore, he has been an asset to many research projects. It is with zero doubt that he will make his name in this business in no time.
I hope that he continues to work hard and be enthusiastic to learn more from life. I strongly recommend him for any future employment in the respective field. For more assistance regarding his work ethics, kindly contact me at [email protected]. I wish him good luck in his future endeavors.
#4
I am writing this letter to refer Mr. ______ for promotion to manager at XYZ organization during [X] appointments of employees.
Mr. _______ joined this organization as a junior employee on __/__/__, and since then he has worked tirelessly to be responsible towards his job description and achieving the company's goal. During his tenure as a team leader, he made sure that his team members worked together to complete projects successfully. He not only managed his team remarkably but also improved their work output, which led to surplus appreciation from higher administration; therefore, I recommend him as the best employee for a managerial position, and he should be awarded along with all the benefits and services that it comes with.
He has been an asset to our entire organization and will prove to be even better if he is rightly acknowledged for his efforts; therefore, I strongly request that higher management consider him the best recommendation for this position.
#5
I am writing this letter to officially recommend Mr. ________ for his employment at XYZ Company since he has terminated his employment at ABC Company to pursue his future at XYZ.
Mr. __________ has proven himself to be remarkable not only regarding his workplace achievements but also his integrity, which has made him win the hearts of his colleagues. He worked tirelessly to complete several projects as a team leader and made extra efforts to achieve his desired goals. He was not only praised by his colleagues but also by clients, which increased business for our company.
As he embarks on his new journey of working for ABC Company, I wish him good luck.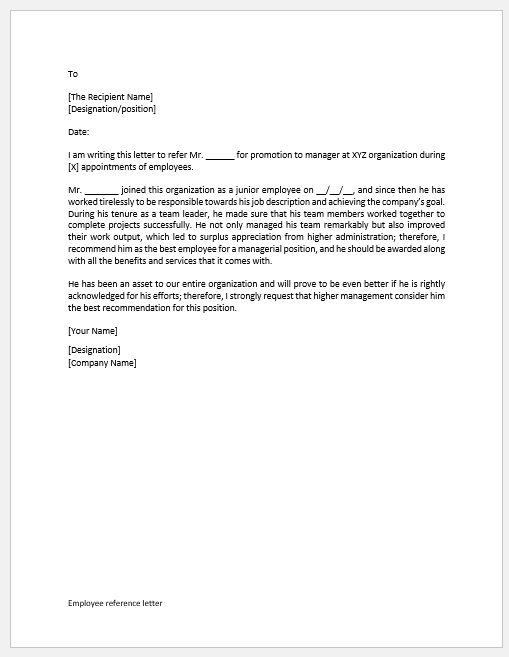 Sample Letter File: 97 KB