Verbal altercation stands for any kind of misbehavior like a heated or angry dispute or any kind of noisy argument between two individuals/employees. Official warning letters are issued to employees who are involved in unacceptable acts like verbal altercations. Warning letters are used for many purposes and there are many types of these letters too.
A verbal altercation warning letter serves as a warning for a verbal altercation. These warnings are generally given to employees who violate the rules of the organization or do not follow the regulations set by the organization. This letter is issued to the employees when they don't obey the rules they have agreed to, or violate the terms and conditions of the organization.
A warning letter for a verbal altercation must contain powerful and bold wordings so that they can deliver a clear warning to the individual before a company takes any action.
Apart from the subject that why it is issued, the warning letters must contain the following things:
Before documenting a letter, it is quite necessary to know why it is issued or what's the reason as it helps the employees to understand why they are warned.
It should be written in a tone that is authoritative so that it would be easy to make it official.
Mention all the legal implications clearly that can be applied if the warning letter is ignored by the employees.
The verbal altercation warning letter can easily be found on our website.
1-
It came to our attention that you have been in a verbal altercation with one of the senior management personnel Mr. Kumar Patel on 4th Feb at around 5 pm. Many employees from your department testified against you and informed us about the altercation you had with Mr. Kumar which almost got to a violent end. You used indecent language and threatened Mr. Kumar with grave consequences.
I would like to inform you that misdemeanor and disrespectful behavior towards any employee shall not be tolerated under any circumstances. We are issuing a warning to you for this behavior and please be informed that after two warnings, your contract with our company shall be suspended till further notice.
Mr. Kumar Patel is one of our senior-most officers and has been with us for the past twenty years. In case you had a disagreement with him, you should have informed HR so they can discuss it and try to resolve the matter in an amicable manner.
The use of violence and threats is absolutely discouraged at our company. We have arranged a meeting with you and Mr. Kumar Patel on 11th Feb at 11 am at the HR office. We would appreciate it if you came to the meeting and talk it out with Mr. Kumar and try to make amends with him. We encourage a healthy and peaceful environment at our office for our employees.
Regards,
Office Management.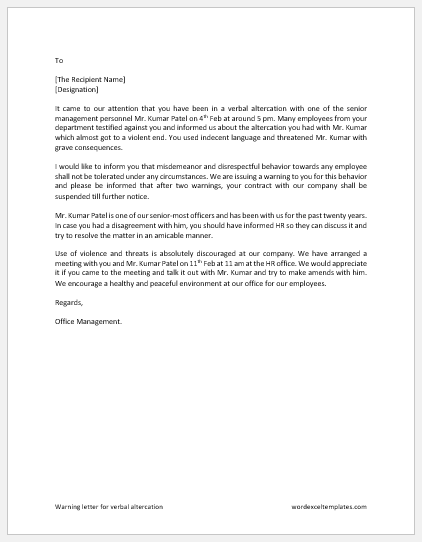 File: Word (.docx) 2007+ and iPad
Size 16 KB
2-
It has come to our attention that you have been in a verbal altercation with Ms. Nina and used indecent words. Your abusive words could be heard from outside the building too as you were extremely loud.
Several employees from your department have testified against you and have also been informed of several previous altercations you have had with your co-workers which were not reported and never reached HR. Your behavior has been extremely inappropriate, and it directly violates the company policies regarding demeanor at the workplace.
You have been issued a warning by the office management according to which you will have to pay a fine of 50 dollars to the company by Friday. You will also send a written apology to Ms. Nina within five days.
We regret having to issue this warning letter to you as you have been a valuable employee of our company. You have a great work record and have completed several projects successfully with our firm. However, we must inform you that misbehavior or verbal altercations with any employee will not be condoned at any level.
Any type of misdemeanor equates to immediate issuance of a warning and imposing of the standard fine. We expect you to make amends and not repeat this behavior in the office ever again. In addition, we wish to inform you that after two warnings, your contract with the company shall automatically be terminated and you will not be able to apply to this company ever again.
We look forward to your cooperation and hope to see you in good spirits from Monday.
Regards,
Office management.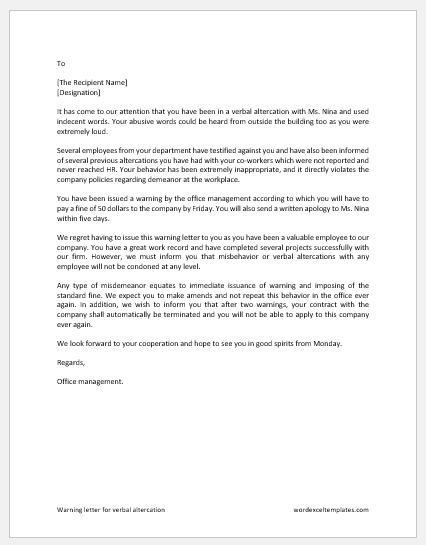 File: Word (.docx) 2007+ and iPad
Size 16 KB