Re. Request for Leave from [date] to [date]
Dear Manager, I am writing to request a leave from [date] to [date] as I am going on vacation with my husband. We plan to leave for [one country] and then move to [another]. After staying there for [x] days, we will get back home on [date].
This is the time in the business when we only have a few projects to see. At the end of the month, the work burden shall catch its peak, and there will be no time for vacation leave.
There are two reasons why I am requesting leave and going on vacation. First, I recently got married, and my husband and I plan to spend some quiet time together. We want to know each other more and excitingly celebrate our wedding. Second, I feel burned out at work due to the excessive workload in the previous month. The same kinds of projects and marketing campaigns caused a stroke of boredom, and I feel burnt out at work for the moment.
Nonetheless, taking a break from work is important after some extra work burden. I shall return to work more enthusiastically and will be able to work to my full potential. Productivity and proactivity in work lie in balancing work and personal life. Considering all this, I request a leave.
I have done most of the assignments, and no pending assignment shall burden anyone who fills in my absence from work. I will only check my emails occasionally. Therefore, I am putting a number down here so I can be reached if urgent contact is needed.
I would be very grateful if you approved my request for leave. I have informed my teammates about my absence, and they agree to share my responsibilities during my absence. Thank you.
Regards
[Name]
[Designation]
[Contact No.]
[Signature]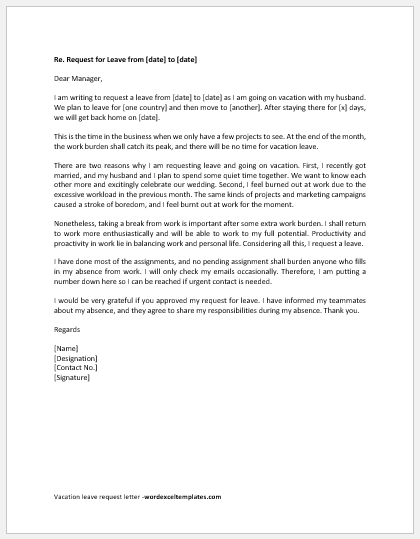 #2
Re. Request for Leave from Office due to Family Vacation
Dear Sir,
It has been five years since I have not gone on a vacation with my family. My work routine only allows me to spend a little bit of time with my family. To spend some time with my family, I plan to quit work for a week and make the most of it by spending it with my wife and kids.
We are going to [name the country/state/city], and I will be on a family vacation from [date] to [date]. Please let me know when you approve my request so I can buy the air tickets on time and make other arrangements. Moreover, for pending assignments, I have requested Mr. [Name], who agrees to fill in my place during my absence. I have also informed my team leader, who approved my request for leave. Please find his letter of approval attached.
During my absence, I will check my emails once a day to keep track of my work progress. Moreover, I will stay in contact with Mr. [Name], who will take care of my responsibilities during this time.
I will be thankful if you do this at your earliest convenience.
Regards
[Name]
[Position]
[Department]
[Signature]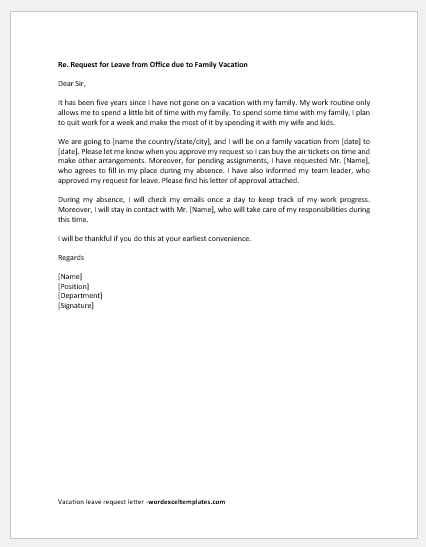 See also: