Vacation is a holiday that allows people to take a break from work and studies and take rest or spend time with their family. It is human nature to strive for a break. In addition, our bodies also need to take rest after we have worked for so many weeks and months in a row.
There are different types of vacations. The vacation granted by the state such as Christmas vacation is a legal holiday that a person can enjoy without having to ask anyone for a break. However, a person has to apply for holidays, and for this purpose also, a request letter is written. 
What is a vacation leave request letter?
It is a formal request letter that a person writes to his manager or a teacher to take some time off from studies or work. The purpose of this letter is always to convince the reader into accepting the fact that the person writing the request needs a break for a specific purpose and he should be granted the break. However, it is important to remember that you don't get the leave application approved every time because of many reasons. 
When to write the holidays leave request letter?
When you want to enjoy some time off from everything that has been draining you, you would like to plan a holiday period with your friends and family. However, you should always keep the plans of your boss in mind. It is suggested to apply for holidays and then plan your vacation.
If you have already planned your vacation because you are sure that your request will be approved, make sure that you inform your boss several weeks before the actual holiday period. 
Tips for writing the leave application request letter:
Know the policies of the company:
If you never want to face the rejection of your request, you must follow all the procedures and roadmaps to apply for the vacation break. For instance, some companies have a policy to not allow their employees to go on leave right after the Christmas break. So, make sure that you don't make any plans in that period and don't write any request letters.
Give details of the reason:
Taking a break from work is a right of every worker. However, letting the employee know the reason will increase the chances of your request being approved. For example, if you want to attend the wedding of one of your close relatives and you specify it in the request letter, your boss is likely to accept your request. 
Know the format:
People are required to pay more attention to the request letters' format because if you don't know how to take down your intent to go on break in an efficacious way, you will not be able to make an impact with the help of your words. So, make sure that have drafted the letter in a right format
Your letter should be short:
All the request letters are written precisely because you are not allowed to discuss more than what is necessary. If you do this, your boss will not read your complete letter because of the lack of interest and time. So, try to write everything shortly and concisely. If you don't know how to write a short letter, you will have to do some practice because explaining what is in your head in a small number of words is an art
Follow the template:
For some people, asking their boss to take a break from work is a big struggle because they fear that they might face rejection. For such people, there are many templates and sample request letters. People should keep the scenario in which they have to write the request in mind and choose any pre-written request letter.
In addition, the pre-written sample letters are general-purpose letters. People who use them are required to tailor them to make them fit their particular scenario. For instance, you should edit the letter to add your specific reason to ask for leave. However, make sure that you do it in the same way it has been written in the template.
See also: Application for casual leave from office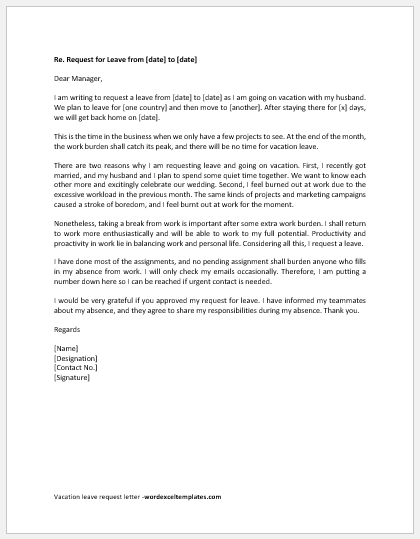 Sample Letter File: 45 KB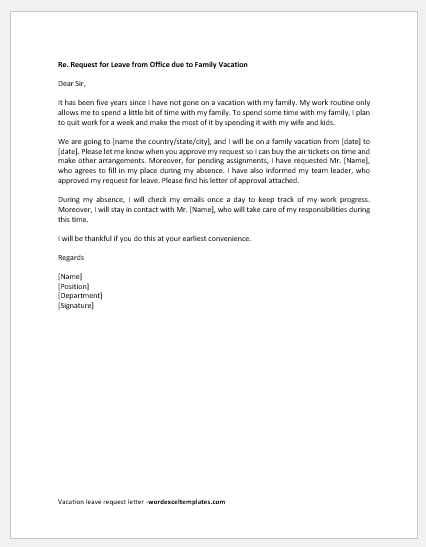 See also: