Every employee in an organization is entitled to take leave once in a month. That is the way the companies give privilege to their employees. It is the right of the employee to get casual leave whenever he needs if the reason is genuine.
However, the employee should also understand his responsibility to inform the company about that leave so that the company can allocate his job to someone for a day.
By writing an application, you show complete professionalism with your job. It is also very helpful because it convinces the employer to grant you leave.
Tips for writing an application for casual leave:
It is important for you to keep the tone of the application polite and formal because you are going to submit it to your employer and it should be able to put a positive impression on him.
The reason behind asking for casual leave should also be mentioned in this application. Make sure that you state the reason and clear words and there is no ambiguity in it.
It should be written in very convincing words so that the reader will immediately sanction the leave.
The application should be written very concisely.
After writing the complete application, proofread it to see if there is any grammatical a spelling mistake
Below is a sample application that will give you a clear understanding of writing an application for casual leave.
Application Sample -1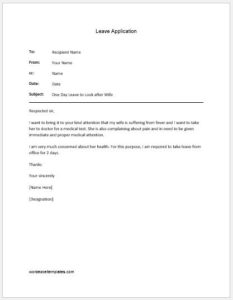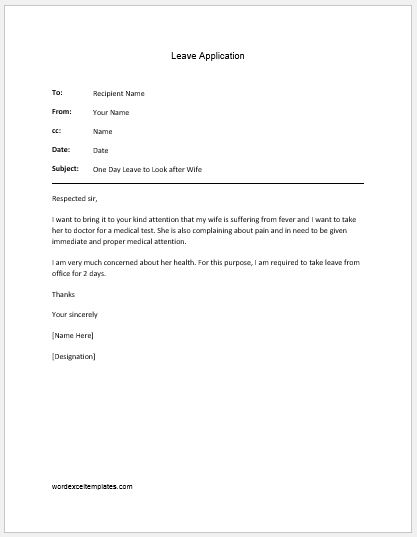 Subject: One Day Leave
Respected sir,
I want to bring it to your kind attention that my wife is suffering from fever and I want to take her to doctor for a medical test. She is also complaining about pain and in need to be given immediate and proper medical attention.
I am very much concerned about her health. For this purpose, I am required to take leave from office for 2 days.
Thanks
Yours sincerely
---
Casual applications are very commonly used applications because everyone working in an organization needs to get a leave once in a while. You should know how to draft a professionally written application in a convincing Manner.
Application Sample -2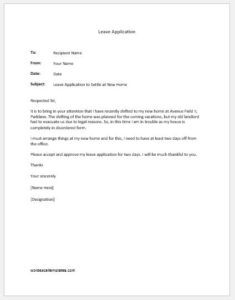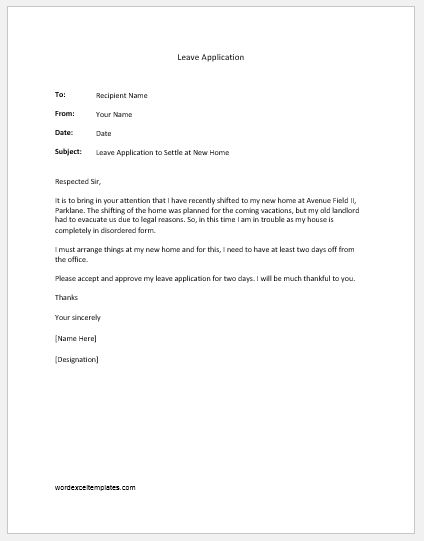 Respected Sir,
It is to bring in your attention that I have recently shifted to my new home at Avenue Field II, Parklane. The shifting of the home was planned for the coming vacations, but my old landlord had to evacuate us due to legal reasons. So, in this time I am in trouble as my house is completely in disordered form.
I must arrange things at my new home and for this, I need to have at least two days off from the office.
Please accept and approve my leave application for two days. I will be much thankful to you.
---
Application Sample -3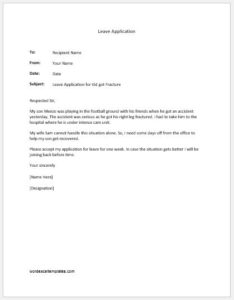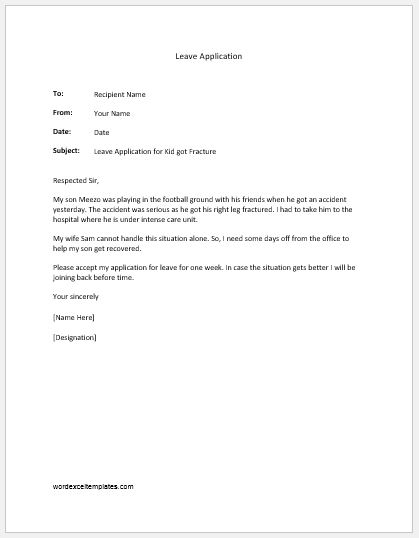 Respected Sir,
My son Meezo was playing in the football ground with his friends when he got an accident yesterday. The accident was serious as he got his right leg fractured. I had to take him to the hospital where he is under intense care unit.
My wife Sam cannot handle this situation alone. So, I need some days off from the office to help my son get recovered.
Please accept my application for leave for one week. In case the situation gets better I will be joining back before time.
---
Application Sample -4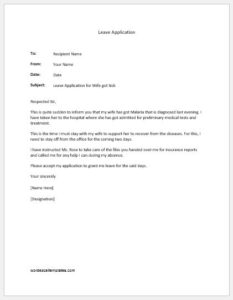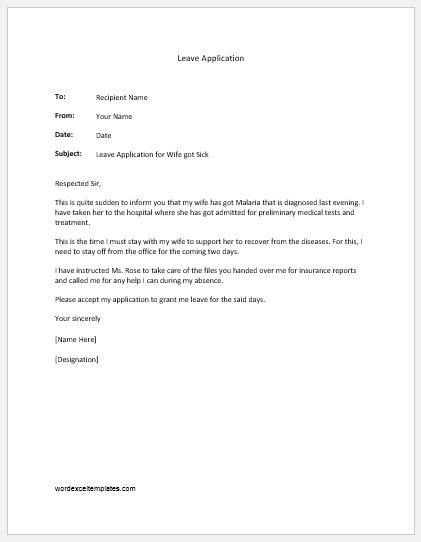 Hello Mazen,
This is quite sudden to inform you that my wife has got Malaria that is diagnosed last evening. I have taken her to the hospital where she has got admitted for preliminary medical tests and treatment.
This is the time I must stay with my wife to support her to recover from the diseases. For this, I need to stay off from the office for the coming two days.
I have instructed Ms. Rose to take care of the files you handed over me for insurance reports and called me for any help I can during my absence.
Please accept my application to grant me leave for the said days. Download
---
Application Sample -5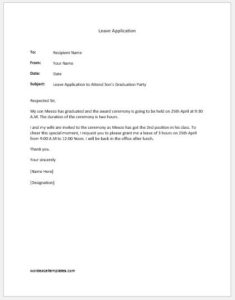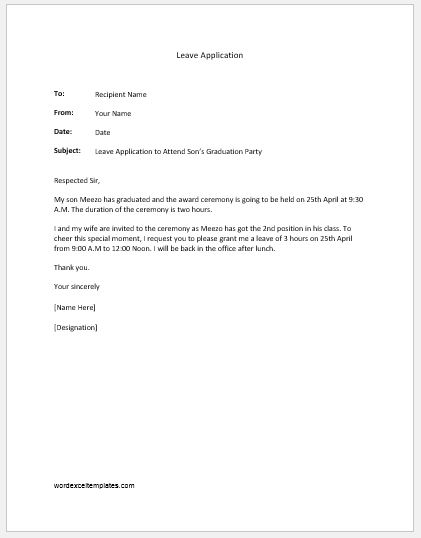 My son Meezo has graduated and the award ceremony is going to be held on 25th April at 9:30 A.M. The duration of the ceremony is two hours.
I and my wife are invited to the ceremony as Meezo has got the 2nd position in his class. To cheer this special moment, I request you to please grant me a leave of 3 hours on 25th April from 9:00 A.M to 12:00 Noon. I will be back in the office after lunch.
Thank you.
---
Application Sample -6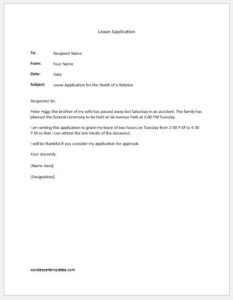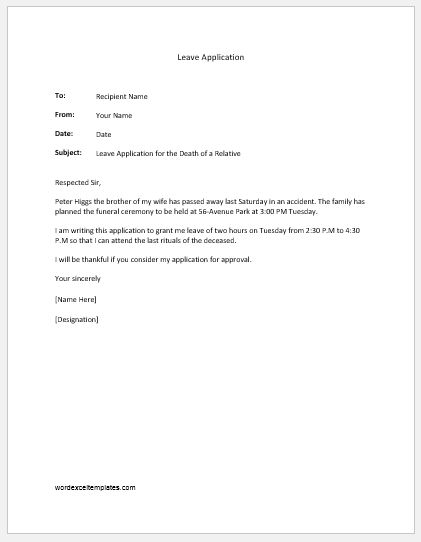 Peter Higgs the brother of my wife has passed away last Saturday in an accident. The family has planned the funeral ceremony to be held at 56-Avenue Park at 3:00 PM Tuesday.
I am writing this application to grant me leave of two hours on Tuesday from 2:30 P.M to 4:30 P.M so that I can attend the last rituals of the deceased.
I will be thankful if you consider my application for approval.
---
Application Sample -7
Yesterday I received a letter from the tax department to clear the matter of my tax amount deposit. My tax payment for the house I purchased has some discrepancy that needs to be resolved in my presence at the National Tax Center.
To attend this and to resolve the matter I need three-hours leave from the office on Tuesday 27th of November from 9:00 A.M to 12:00 Noon. I shall be thankful to you for this approval.
Casual Leave Application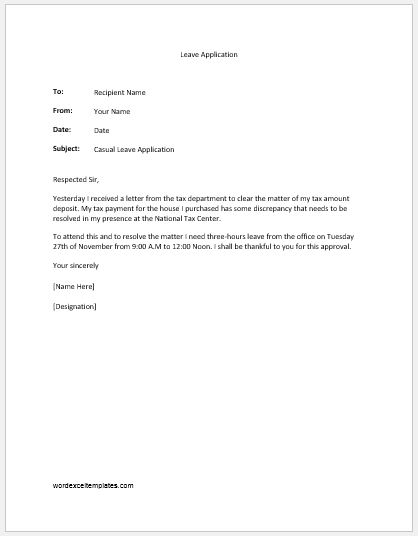 File: Word (.docx) 2007+ and iPad 
Size 31 Kb   | Download