What is a salary deposit request letter?
A salary deposit request letter is an advance salary payment request letter written to the manager, boss, HR department or the head of the company. This request letter is written by an employee who wants to request to the employer for deposition of salary in some special circumstances. Every person's life is subjected to some problems which are why every individual work in order to fulfill the needs of his family.
Generally, there is a specific date on which every company pays its employees. However, if the employee needs money before that date, he can write the request letter for salary deposit.
There can be many reasons for which an employee can request for salary before the due date such as medical emergency, urgent payment of children's fee and a lot more. No matter what the reason is, he can always write the salary request letter.
It is very important for an employee to write this request letter with a complete professionalism. When you want to get the early payment approved, try to write the letter in such a way that it sounds quite genuine.
Make sure that you write the letter to the point and you are clear about your statement made in the letter. Avoid any type of grammatical or spelling mistakes in the letter since you are writing this to your boss.
Sample Letter -1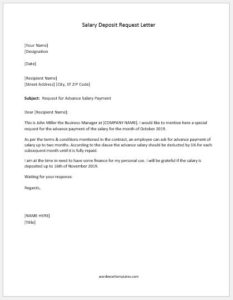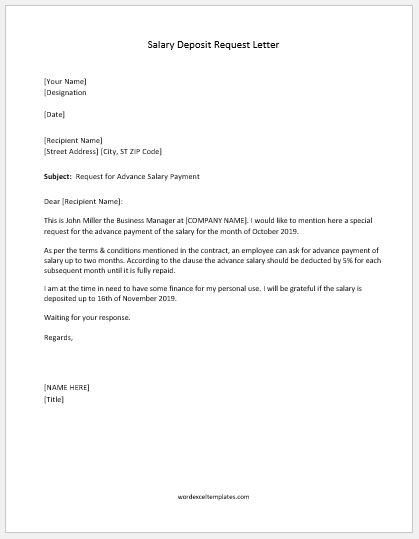 This is John Miller the Business Manager at [COMPANY NAME]. I would like to mention here a special request for the advance payment of the salary for the month of October 2019.
As per the terms & conditions mentioned in the contract, an employee can ask for advance payment of salary up to two months. According to the clause the advance salary should be deducted by 5% for each subsequent month until it is fully repaid.
I am at the time in need to have some finance for my personal use. I will be grateful if the salary is deposited up to 16th of November 2019.
Waiting for your response.
---
Sample letter
Sales department
ABC Company,
Date
Dear sir,
This letter is being written to request for advance salary payment for the month of November 2019. I know the policies of the company regarding the salary deposition, but I would like to request for an exception in this month.
I am short of some cash because of some unexpected expenses. I have to pay the school fee for my kids. Moreover, I have to take medical care of the mother. In this need of the hour, I am requesting you to consider my situation.
I would really appreciate if you consider my situation and release my salary before the due date. Your kind action will simplify many financial problems in my life. I shall be very grateful to you for this act of kindness
Sincerely,
Preview and Details of Template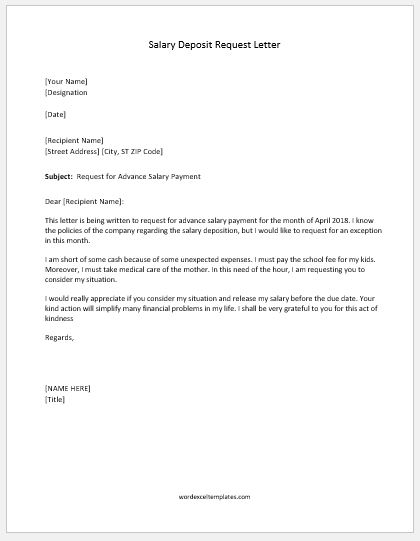 Sample Letter Template
File: Word (.docx) 2007+ and iPad 
Size 36 Kb   | Download