Contacting the employer or HR if you have any issue regarding salary is a normal thing. Many employees must write a letter to the HR department to inform them about the salary issue.
There are many situations when an employee does not receive a salary. Regardless of the reason, the employee should always inform the employer about it.
Sometimes this letter also becomes a complaint letter in which you write about not receiving your salary.
The company may not be able to transfer the salary to your account because of not having sufficient details about you. It is recommended to provide your details in the letter. However, if you are an old employee, you may not be in need to provide your details.
In normal circumstances, you may not receive your salary due to different reasons. It may be an incomplete record of the employee, employee status update, employee payroll changes or the company is in deficit to pay the salaries, etc. In this situation, you can write a salary delay complaint letter to your boss, manager, or company head, and your matter is resolved.
In situations when you put in your resignation, you should mention the date on which you are discontinuing your job. You work in the period that you have mentioned in the resignation letter. The following letter is for the situation when you have not received your salary because you have put in your resignation but are still on the desk to complete the agreed period of the job.
Few things not to forget…
Keep this letter concise and formal. The tone of the letter should be polite yet firm. It totally depends on your situation which type of information you should add to the letter. Here is a sample letter that will help you draft a professionally written letter regarding salary.
Letter for Salary not Received due to Resignation
Company ABC,
Date
Dear Sir,
Two years back I joined the company. I am a permanent employee of the company. I had some issues regarding my job due to which I decided to resign from the job. As per the agreement with the company, I submitted the resignation along with one month's notice as I was expected to do so.
The company immediately started to force me to leave the job after returning all the assets given by the company.
As per the agreement, if the company terminates me from the job without any notice, it will be liable to pay me the salary of 50 days along with the current monthly salary.
Unfortunately, I did not receive my salary. I have sent many emails and letters to the head of the accounting department, but I did not receive any reply. I hope that this letter will bring your attention to my issue and you will take serious action to resolve it.
Regards,
Yours sincerely,
Preview and Details of Template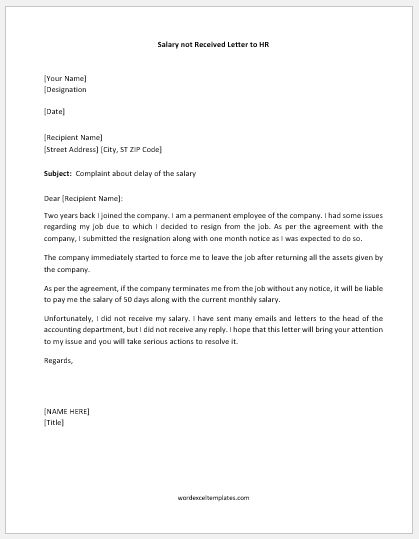 File: Word (.docx) 2007+ and iPad 
Size 36 KB
See also: