Writing an apology letter is considered a very crucial matter. Sometimes the apology letters give the impression that the employer is trying to avoid his responsibilities and trying to make the situation worse. It is therefore needed to be careful while writing the apology letter.
An apology letter should not refer to any sensitive personal matter as they may be read by people other than the employees. Sometimes these letters also become evidence against the company.
Many companies do mistakes while preparing payroll. An error in payroll causes a lot of problems for an employee. Due to this, the management of the company is often asked for an apology with the sorry note and ensure that the problem will be rectified as soon as possible.
Most of the companies use software that operates payroll without any error. However, this software is also subjected to errors when some changes are brought in the payroll. The error in payroll may pay less to the employee by adding some unnecessary leaves.
What is the purpose of writing the apology letter?
The purpose of writing the apology letter is to inform the employees about the error so that they can happily continue their work. The sample below is helpful for you to draft an apology letter for yourself. You may find this letter to be not in accordance with your situation. It also provides you the opportunity to edit it.
Sample letter:
Date
Company name
Dear [Recipient Name]
Subject:
This letter is being written in reference to the last payment made by our company. The invoice number that was issued last month was [XXXX]. I lately came to know that we have made a serious mistake in paying our employees. The cheque that was paid to you on [DATE] date had wrong payment related information.
Please accept our serious apology for making you suffer from the inconvenience caused due to an error in payroll. We assure that we will solve this problem as soon as possible and also ensure that this will not happen again.
Yours Sincerely
Regards
Preview and Details of Template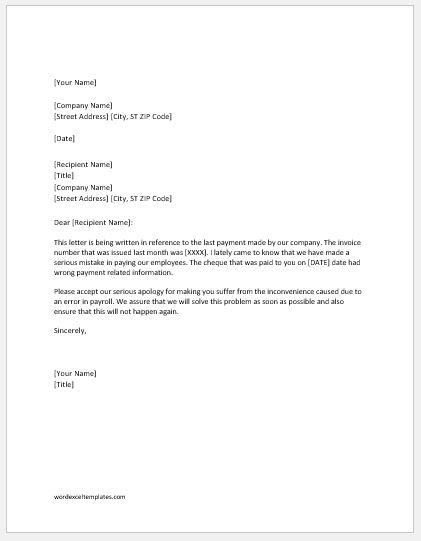 Sample Letter Template
File: Word (.docx) 2007+ and iPad 
Size 36 Kb   | Download