It is very important for an employer to communicate with employees in order to inform them about the delay in salary. This announcement avoids many assumptions as well as apprehensions that might affect the productivity of employees.
In what way the employer announces the delay in salary also matters. Writing an effective announcement letter can make you win the respect and loyalty of your employees. Employers love to be informed about what has been bothering them for so long.
Many employers don't believe in communicating through the letter with their employers. They do more damage to the company's reputation.
Tips for writing the announcement letter:
There is a specific date on which an organization is obligated to pay each employee. Every employee waits for the company to release their salary.
When the salary is not received on an expected date, the employees become worried. Here are a few tips that you can follow in order to write a professional-looking announcement letter.
The announcement letters are usually short and are written in a formal tone.
Announce that the employees have to face a minor delay in their salary. The employees may be concerned about the reason for this delay, so it is advisable to mention the reason in the letter also. State the date by which, the salary will be deposited to the employee's account.
Make sure that you have clearly indicated all the details. End the letter with the hope that the employees will cooperate with you in this difficult time.
Sample Letter -1
Dear Staff,
It is remorseful to announce that the salary for the month of June 2028 will be delayed.
The reason for this delay is the enhancement of the accounting system to the latest standards. The upgrade was scheduled to be completed by the end of June, but it has been extended up to the end of 1st week of July.
We regret this inevitable situation and hope you will cooperate with us to rise to better standards. Your salary will be deposited no later than the 10th of July.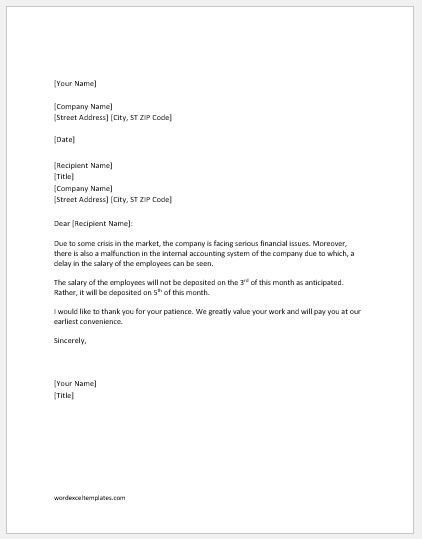 Sample letter -2:
Date
Name of recipient
Name of company
Due to some crisis in the market, the company is facing serious financial issues. Moreover, there is also a malfunction in the internal accounting system of the company due to which, a delay in the salary of the employees can be seen.
The salary of the employees will not be deposited on the 3rd of this month as anticipated. Rather, it will be deposited on the 5th of this month.
I would like to thank you for your patience. We greatly value your work and will pay you at our earliest convenience.
Preview and Details of Template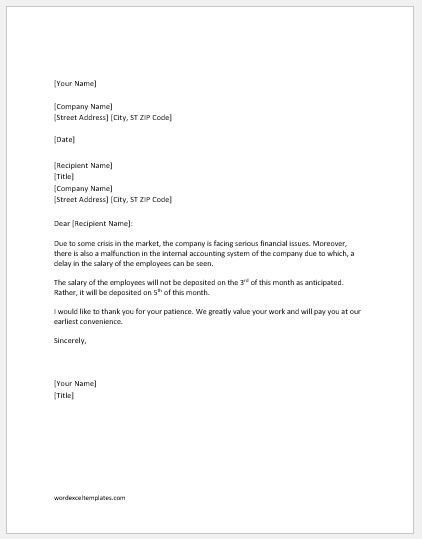 #3
First of all, I would like to thank you for always providing us with your interminable support. I fear that this message might offend you but I believe that you will understand the situation. This is to announce that you will get your salary for this month on the 10th of June. This unexpected delay is being caused due to the up-gradation of the online salary credit system. Once our system is updated, your bills regarding leave encashment and other recompenses will automatically be credited to your account. Please don't panic because it will lead to a permanent advantage. It is also assured that such delay will never be experienced by you in future.
#4
We suffered a lot of financial losses the previous month and it has posed serious economic threats to the company. Our management team is striving hard to overcome this economic devour but it will take some time to rise up to a certain level. We value your work and want to go on long terms with you. This is the first ever delay in your salaries since we have been established. I hope you will show patience rather being panic. Your cooperation will be highly appreciated.
#5
Please be informed that the salary for this month will be late by 10 days. You all know that the government has put huge cuts in the recent budget and has caused a huge decline in our sales and production. Moreover, the company has not been receiving a sufficient number of orders since last month. All such incidents led to delayed salary payments.
This downfall is temporary as our financial condition is getting better day by day. Our sales and production department has devised useful strategies to rise in the market again. It is expected that you will show steadfastness. The company needs your sincere cooperation in its hard time.
#6
This message is being circulated on behalf of the CEO to notify employees about the salary for this month. The CEO had to travel abroad for major heart surgery. He is supposed to come back on [mention date], but his stay went longer due to some complications. He is really sorry for this delay but the circumstances were not foreseen otherwise he would have signed the cheque before his departure. You all are requested to understand the company's concern and produce a soft corner in your heart. Your patience and calmness will be highly regarded.
#7
Dear employees, please be informed that an unexpected error has occurred in our internal accounts management system. It has led to an unusual delay in the processing of salary slips of employees for this month. Therefore, it is being announced with deep regret that the salaries of employees for the current month cannot be disbursed on time. This has happened for the first time that employees' salaries are not credited on time. Therefore, they are requested to cooperate with us and show persistence. We need your subsistence and moral support. Thank you in anticipation for understanding the problem.
#8
All employees are officially informed through this message about the delay in the current month's salary which cannot be made on time. We are sorry for this unexpected delay which has been caused by a technical error. Our team of skilled professionals is trying to fix the error and the issue would be resolved within a few days.
We are aware of the challenges you might be facing in the form of a huge financial burden as a result of this delay. You all are our asset and we cannot provide quality products without your sincere efforts. Please stay intact with us because the problem will be fixed as soon as possible. 
#9
Hope you all have been doing great. This is to be informed that the current month's salary payment to all employees is not possible because of sudden misfortune. This problem has been created due to unavoidable circumstances. You all know that we did not receive sufficient orders from our clients due to which we had to face the worst ever financial crisis.
We hope to fix all the money-related problems within a couple of weeks. Your salary will be credited no later than 10 days. You have always stood by us in hard times and this time we are in dire need of your cooperation.