It is very important for an employer to communicate with employees in order to inform them about the delay in salary. This announcement avoids many assumptions as well as apprehensions that might affect the productivity of employees.
In what way the employer announce the delay in salary also matters. Writing an effective announcement letter can make you win the respect and loyalty of your employees. Employers love to be informed about what has been bothering them for so long.
Many employers don't believe in communicating through the letter with their employers. They do more damage to company's reputation.
Tips for writing the announcement letter:
There is a specific date on which an organization is obligated to pay each employee. Every employee waits for the company to release the salary.
When the salary is not received on an expected date, the employees become worried. Here are a few tips that you can follow in order to write a professional looking announcement letter.
The announcement letters are usually short and are written in a formal tone.
Announce that the employees have to face the minor delay in the salary. The employees may be concerned about the reason for this delay, so it is advisable to mention the reason in the letter also. State the date by which, the salary will be deposited to employee's account.
Make sure that you have clearly indicated all the details. End the letter with the hope that the employees will cooperate with you in this difficult time.
Sample Letter -1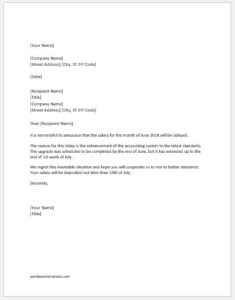 Dear Staff,
It is remorseful to announce that the salary for the month of June 2018 will be delayed.
The reason for this delay is the enhancement of the accounting system to the latest standards. The upgrade was scheduled to be completed by the end of June, but it has extended up to the end of 1st week of July.
We regret this inevitable situation and hope you will cooperate us to rise to better standards. Your salary will be deposited not later than 10th of July.
---
Sample letter -2:
Date
Name of recipient
Name of company
Due to some crisis in the market, the company is facing serious financial issues. Moreover, there is also a malfunction in the internal accounting system of the company due to which, a delay in the salary of the employees can be seen.
The salary of the employees will not be deposited on the 3rd of this month as anticipated. Rather, it will be deposited on 5th of this month.
I would like to thank you for your patience. We greatly value your work and will pay you at our earliest convenience.
Preview and Details of Template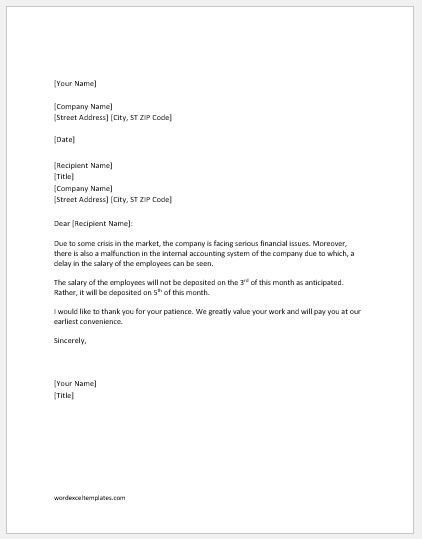 Sample Letter Template
File: Word (.docx) 2007+ and iPad 
Size 32 Kb   | Download