An internship is a different type of employment program that allows students and recent graduates to focus on the work. Internees get an opportunity to implement the concepts they have learned during their studies. Students discover many new aspects of the work, learn new things, and also equip themselves with the new skills that they learn through the internship program.
What is an internship completion letter?
The completion letter of the internship is a type of certificate in the form of a letter that certifies that a person has completed the internship in a company whether paid or unpaid.
Why do students need an internship completion letter?
As told earlier, this letter is like a certificate that confirms that a person has worked in an internship program. Organizations that entertain interns usually have a dedicated program for them and they pay special attention to making students learn new concepts and skills through exposure to the work environment etc.
When students enter their practical life, they struggle to get a good job because of a lack of experience. When they show that they have completed an internship duration, they can prove that they are capable individuals since they're not inexperienced and they have enough exposure that can be helpful for them to get adjusted to a new and competitive work environment.
How to get an internship completion letter?
Since this letter is a very valuable document, you will have to put in special effort to earn this letter. Any person who needs to verify that he has completed his internship will need this letter and the only way to get this letter from any company is to work in that company for a specific duration as an intern.
What are the benefits of the internship completion letter?
You know that you will have to work in a company for a specific time period to get this letter that will confirm that you do have the necessary experience and skills that you need to work in a required field as you enter professional life. Here are many benefits being discussed below:
It confirms that you have exposure:
No matter how qualified you are, you have no worth if you don't have practical experience in doing what you have learned in school and university. This letter is proof that you have the exposure since you have worked in a regular work environment for a specific time period.
It highlights the skills you have learned:
The internship completion letter mentions the skills the candidate has learned while he has worked in a company. So, when he applies for a job position that requires a particular type of skills will find the candidate with the required skills suitable for that post. This way, the candidate will be able to avail themself of the job opportunity.
It gives strength to your profile:
If you want to be successful in your profession, you will need to make a very strong profile that you can post on social media platforms and other platforms. If you have worked as an intern in a well-reputed organization, you will be regarded as a successful professional individual.
Components of the internship completion letter
The main elements of the internship completion letter are:
Description of the internship completion:
The company mentions the name of the candidate and the position in which he has worked as an intern. The company also mentions the program under which the internship was undertaken.
List of skills:
Here, the company mentions the list of all the skills that the candidate has been taught and has learned during the internship program he has completed.
Duration of the internship:
The duration for which a candidate has worked in a company also matters a lot. In this letter, you need to be very specific so that it can be proved that you are being honest. Mention the date on which the intern joined the company and then mention the date when it was the last day of the intern in the company
Close the letter warmly:
In the end, send best wishes to the candidate as he has embarked upon his career and is going to pursue his dreams.
Sample Letter
To Whom It May Concern
I am writing this letter to congratulate you on completing the internship at [XYZ]. This letter can also serve as internship completion proof for any formal and legal requirement(s).
During the internship period, we have found you a hardworking and dedicated individual toward your roles. Your ability to understand a problem is great and hence you come up with a solution(s) in less time compared to anyone else.
During the internship, we found you punctual, regular, and eager to get to your work. Anyone with this behavior is always liked and companies prefer hiring such individuals. We are sure this characteristic of yours will help you succeed in life.
We are happy to write that you have completed all your tasks and projects assigned by the supervisor or project head. The discipline you showed in completing the job was very professional and committed.
I thank you for all the contributions you make to our company, and I wish you all the best in your future.
Sincerely,
[Your Name]
[Designation]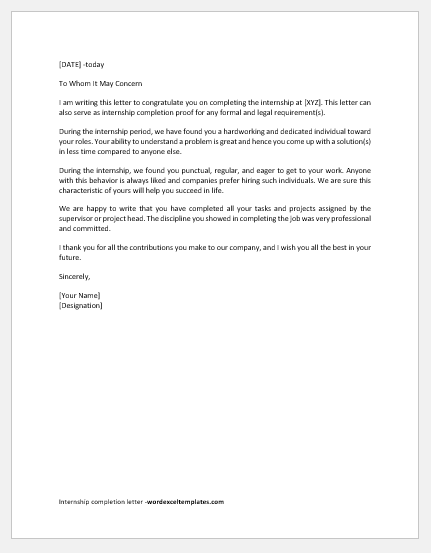 See also: