During our college and university times, we get a lot of opportunities to travel but we ignore them thinking that our study is more important. Most of us write off the plan to travel and delay it for the right time. When we have time, we have no money to travel but when we have money we have no time to travel. So, it is very important to maintain a balance in our life.
Travelling teaches us some of the best lessons. So, we should take up the opportunity whenever we can. Traveling alone in young age can help you get the life-long personal benefits as well as help you to cope up with the professional world.
Being young, we develop our own comfort zones in our own limited space. We know our mothers are there to cook for us, our friends are there to become our support and the never-ending love of our siblings make us care-free and less prone to risks. We become so comfortable with all our daily routines that the idea of stepping out of them can make us feel scared.
Of the best learning experiences we get are in uncomfortable and unfamiliar situations. We know how to react with the people we have in our life. But when we meet new people, all the familiarity goes away and we start learning and get acquainted with new languages and cultures. Connecting with people can be scary at the start, but then you become more smart and wise.
Learning how to travel and figuring out the ways in a foreign country can teach you a lot. Such situations can make you more confident that you can do it successfully. Understanding the culture has become very important as it is the key to success and prosperity in the modern global world. Travelling can teach you the behaviors of different people and various cultures.
But before we make plans to travel, we need to consider various factors. People who are working or studying might need to make a travel request in advance. People traveling for work purpose can also use the travel advance request form to get paid for the expense that they might incur. The travel advance request will mention all the details of the person traveling. It also includes all the estimated expenses that will be incurred while traveling.
Preview & Details of Template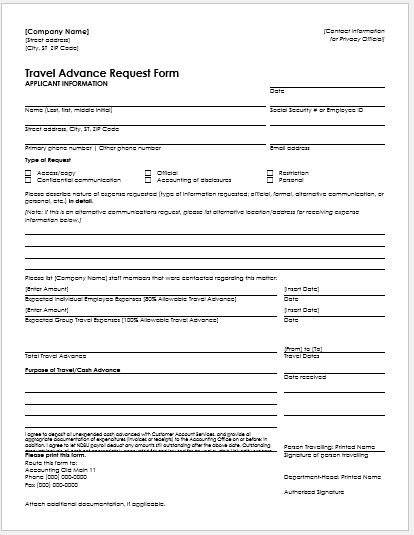 Travel Advance Request Form Template
File: Word (.doc) 2003+ and iPad
Size 37 Kb | Download
File: OpenOffice (.odt) Writer [writer]
Size 14 Kb |  Download
License: ENERGY (Personal Use Only)
Distribution by Kate Elizabeth(CEO)