The HR department of any business has to deal with lots of complaints on a daily basis. A business consists of a lot of structures and departments where there can be numerous problems between individuals working there or customers interacting with the employees of that business. To let top management know about these kinds of problems, the employee complaint form is used. It also serves as a sort of feedback form that is used to assess the satisfaction level of customers.
In the case of any problem, everyone is required to register a complaint if they want the top management to take strict legal action against those issues. A formal document that is used to ask the employee to register a complaint about any issue that he or she faces is called an employee complaint form.
This form is most often filled out by the employee, and after filling it out, the employee submits it to the employer. The employee complaint form is a vital document since it forms the basis of solid communication between the employee and the top management of the company.
The complaint form can be filled out by the employee when:
He or she has a serious problem with any co-worker or employee
When he/she has not received a complete salary
He sees any lack of discipline or breach of any security or rules of the company.
There is no fraudulent or scam activity being carried out by anyone in the company
Anyone who takes action in response to the complaint form should not disclose the name of the employee who lodged the complaint.
Main parts of the form:
Irrespective of the type and nature of the complaint, there are some key parts that are included in almost every type of employee complaint form. These key parts of the form are:
The name of the employee who is submitting the complaint form to the employer
The title of the employee or designation
Job details of the employee, such as salary, job description, date of joining, registration number, identification number, etc.
Reasons for submitting the form
Any person who is getting his complaints registered with the higher authorities should know how to write the complaint. The complaint should be written precisely; however, it should also be ensured that no necessary information has been missed.
The complaint should be written in a convincing way and should leave a positive impression on the reader's mind. The choice of words to be used in the complaint should be made with great care. There should not be any ambiguous information in the form that confuses the reader.
There are lots of complaint form templates on the internet for those who can't design their own complaint form and also for those who want to save their time. The templates are very effective since there is no information in these templates which is missed out. A person can easily submit an effective complaint using complaint form templates.
Preview and Details of Templates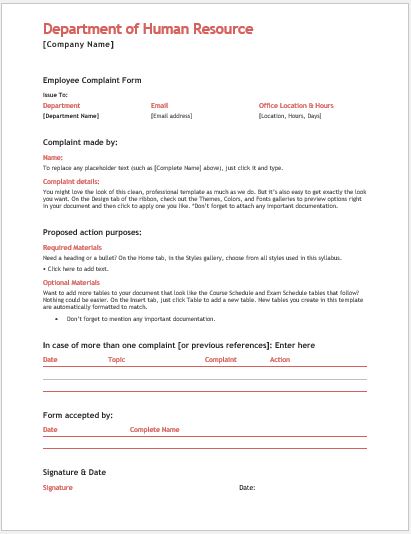 File: Word (.doc) 2003+ and iPad
Size: 48 KB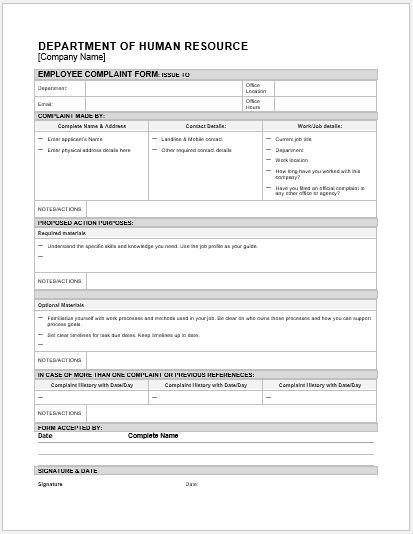 File: Word (.doc) 2003+ and iPad
Size: 84 KB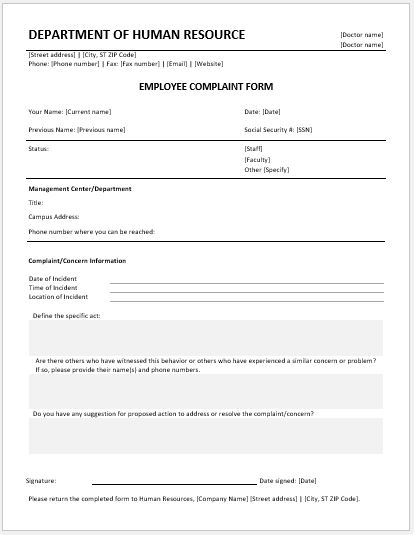 File: Word (.doc) 2003+ and iPad
Size: 104 KB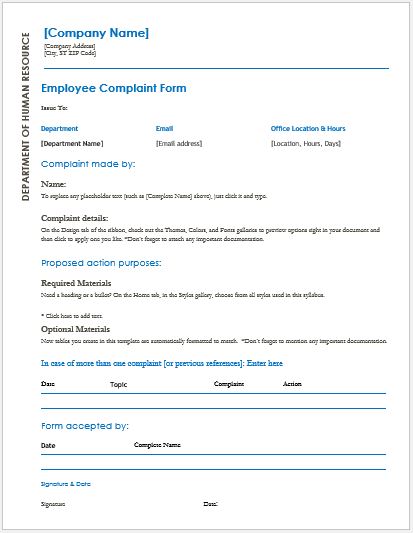 File: Word (.doc) 2003+ and iPad
Size: 65 KB