Getting a job is not an easy task. There are series of interactions you must carry out with the different employers to prove that you are a serious candidate for the said job.
After sending the resume, it is so important for the employer to view it. There are many resumes received by the employer. If you want your resume to be given a second look at it, try to keep the resume stand out.
If the employer is giving a second look at your resume, you are more likely to get selected. The employer has a lot of resumes to view and if s/he is considering your resume, that means he is giving extra time to resume.
The reason for writing the thank you note to the employer for reviewing your resume is very simple and clear. No matter, you get hired by the company or not, it is always very important to say thanks to the employer by showing professional etiquettes. Saying thank you to the employer is extremely important in the process of job search.
Yours thank you note represents yourself as a polite and responsible person. Moreover, this note is very important for you to stand out from the crowd.
There might be many job Hunters sending thank you notes to employers for getting in their good books. Everyone is sending the thank you note to the employer.
But of course, there may be very few proper thank you notes. It is always very necessary for you to explore the way to say thanks to the employer in an impactful way.
If you are interested in knowing the correct way to write the thank you note, here are few tips for you.
The effective thank you note should be written in a good format. For this, you can get the information about the generic look of this note. Try to discover the ways that can leave a lasting impact on the mind of the hiring manager.
Keep the note to the point and short and professional looking.
Note:
Thank you so much for showing your interest in my resume. I am very much interested in working for your company and contributing to the success in my field.
Preview and Details of Template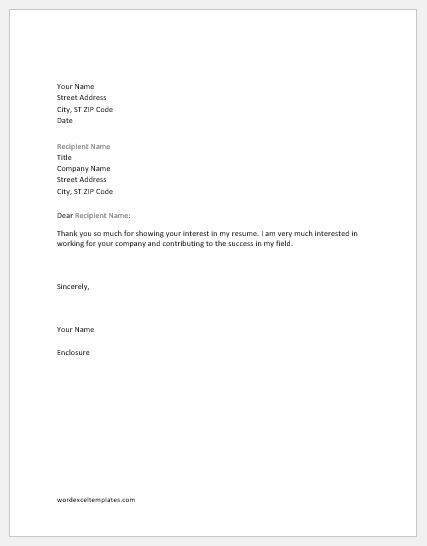 Thank You Note for Viewing My Resume
File: Word (.docx) 2007+ and iPad 
Size 23 Kb   | Download
[Personal Use Only]