What is a letter of absence?
A letter of absence is a formal document which is used by the students and everyone who wants to get the permission for going to leave for any reason.
When you want to go on vacation and you have to be absent from your school for a longer period, you are required to write the letter of absence. It is the rule of any school that the student will have to ask for the permission in order to get time off.
In case of vacation, the absence of a student is already known. The student is required to get the permission from the teacher and the principal of school prior to the vacation.
Tips to write the letter of absence:
Include all the dates on which you want to take off.
If you are going to ask for the leave for vacation, do mention this reason in the letter. Being truthful is very important as your teacher may ask you to provide some evidence to support your letter of absence.
The reason should be stated clearly in the letter.
Tell your teacher that how you will compensate the loss of studies that you will face during this period.
Keep the tone of the letter polite and humble. While writing this letter sit should be kept in mind that your teacher has a right to deny your request.
End the letter with few words of gratitude to make the reader feel good about you
Sample letter:
From:
Student's name: _______________
Date:  _________________
To: ________________
Subject: ____________
Dear Sir/Madam,
I want to request you to grant me leave of absence for 15 days schedule [DATE] to [DATE]. My family has planned to go to Chicago for visit. There will be no one at home whom I can stay with. I have been working very hard from last few days. I also want to go with my family because I want to refresh myself by visiting different areas. I hope that you will understand my condition. Thank you so much for your consideration.
Yours sincerely,
Preview and Details of Template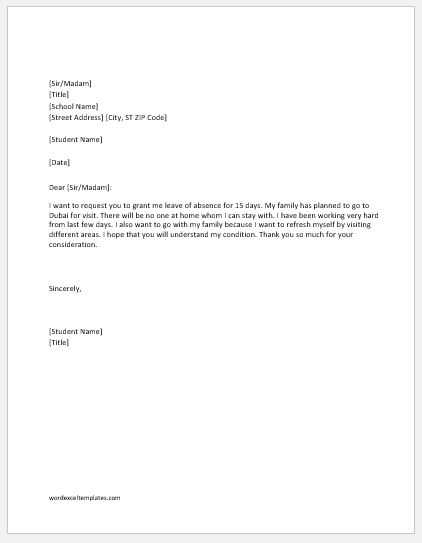 Letter Template
File: Word (.docx) 2007+ and iPad 
Size 32 Kb   | Download
[Personal Use Only]