Office timings are very important for employees as well as employers. Office timing email is sent by the company to all the employees to make them aware of new office timings.
Although the concept of office timing has changed to some extent due to advancement in the field of science in technology, many companies still have fixed office timings which they want everyone to follow.  They expect the employees to come and leave the office at a fixed time.
The basic advantage of fixed timing is that there is a very appropriate coordination among the employees. This schedule can also be tough for many employees who must do myriads of chores in a limited amount of time.
Some offices also offer flexible work timings where the employees can work in shifts but the companies require that the employee appears in the office at the accurate time.
To ensure that employee reaches the office on time, many companies write an email to all the employees informing them about the office timing. This is done to ensure the availability of employee in the office.
When there is a change in the office timing, it is the responsibility of the company's management to inform everyone about it. Instead of informing every employee individually, the company sends a single email to all the employees.
Tips for writing the email regarding office timing:
The email should state the old and new timings in detail.
Ask the staff members if they have an issue with the new timings. Also, provide your contact details so they will contact you in case of any problem.
If there is anything related to the timing, do mention it in the email.
Make sure that you have added an appropriate subject in the email
Sample Email:
There are lots of complaints we are hearing regarding the tardiness in the office. We are hereby changing the office timing. Now office will start at 9:30 am. All staff members are advised to adhere to the office timings strictly.
The employee(s) who will come after 9:30 will be considered half day absent. Therefore, we are informing you that new office timings will be applicable from tomorrow to onwards.
We need our staff members to cooperate with us so that a healthy working environment can be established.
Preview and Details of Template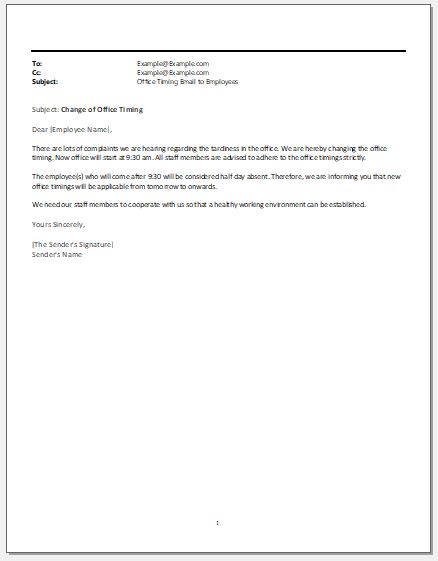 Office Timing Email to Employees Template
File: Email (.msg) 2007+ and iPad 
Size 32 Kb   | Download
[Personal Use Only]