Every company has high expectations from its employees, in terms of their performance and fulfilling responsibilities. When employees fail to achieve that mark or start ignoring their work duties, they have to face the consequences. In such cases, the management or the HR department write an email or letter to the employee to let them know about their negligent behavior and ask them to make improvements.
The main purpose of the email is to ask the employee to amend his/her actions, whether it is missing deadlines, overlooking work responsibilities or giving less time to work duties, in order to be more efficient and productive.
Negligence in work is about the performance and not the conduct of the employee on the job. The negligence might be because of an employee being not fully trained or he/she is not fully familiar with the company rules or standards. To address these issues, a letter or an email is sent to the employee followed by a meeting to discuss the matter. It is important to keep records of all the procedures for future references.
Things to keep in Mind
Emails are considered a less formal form of writing than letters, so the format is not very definite. It is usually written in a casual and natural form, however, official emails must follow the standard writing rules. Following are a few things to keep in mind while writing the e-mail:
Mention the facts: The facts and figures must be mentioned in the email; when the negligence started to take place and for how long it has been happening.
Timing: Email should be sent as soon as the incident of negligence occurs without unnecessary delays, so the employee can control the situation before it gets worse. Longer delays in sending the email lessen the severity of the situation.
Company Expectation: The email should include what the company expects the employee to do in order to avoid negligence and to make improvements.
Sample Email
To: John Mathews
Subject: Negligence in Work
Dear Mr. Mathews,
We are not very happy with your handling of work duties and have received a few complaints from your fellow colleagues about not fulfilling your work commitments correctly.
We have assessed your last 5 assignments with the clients and unfortunately, we came across a significant amount of negligence, especially lack of coordination among the departments and commitment to meet the deadlines.
We highly recommend you to take the XYZ training course. Also, we want you to go through a Mentor-ship program with Mr. James, to improve your shortcomings and areas of development.
You are required to work on the above-mentioned problems and start completing your work duties responsibly. We believe you have the potential to grow and become an integral part of our firm and would like you to show us your skills, positive attitude and hard work.
We will be reassessing your situation four weeks from now.
Looking forward to great progress.
Regards,
Nathan Johns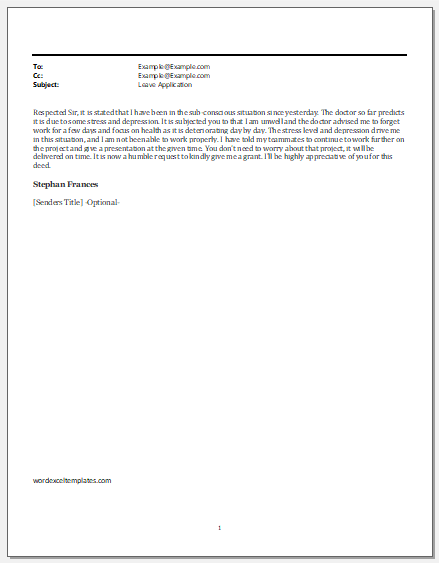 File: MS Word (.docx) Size 28 Kb |
Download
---