Memo for the change of working hours is used when the schedule of new timings has been approved and is going to be implemented. The memo is basically used to announce new working hours timing for the entire staff of the company.
Make sure that you include all the details in the memo that are required to follow new timings. There can be many reasons for changing the working hours. Regardless of the reason, writing the memo letter to inform everyone about your decision is important. A professionally written memo can be very helpful for you in communicating with your staff members.
Tips for writing change of working hours memo:
Here are few tips for you to write a professional looking memo
Memorandum is a document that is used by most of the companies when they want to pass around any information about the event or anything to all the staff members.
This memorandum is a formal document so it is very important for you to keep the tone of the letter totally formal.
Writing the memorandum in MS word is recommended.
The information to be given in the memo should be kept straightforward and precise so that everybody can understand it.
There should not be any ambiguity in the information provided in the memo.
It is the responsibility of every manager of the company to ensure that the information provided by them is well understood and comprehended by everyone.
After writing the complete memo share it with your staff members.
Adding the subject in the memo shouldn't be forgotten.
Make sure that the subject is catchy and provides the brief information about the content of the memo.
The memo should be started off with the provision of information about the changes in the working office hours.
There is no need to add any type of irrelevant information in the memo rather you can start it from the required information straight.
Provide your contact information in the memo at the end of memo so that the employee can contact you in case of an issue.
Sample Memo
From: [Name Here]
To:
Dear staff,
I am writing this memorandum to inform you about new office timings from [00:00] to [00:00].
The new timings will be effective from tomorrow dated [DATE] onwards. Everybody is instructed to follow these timing.
Preview and Details of Template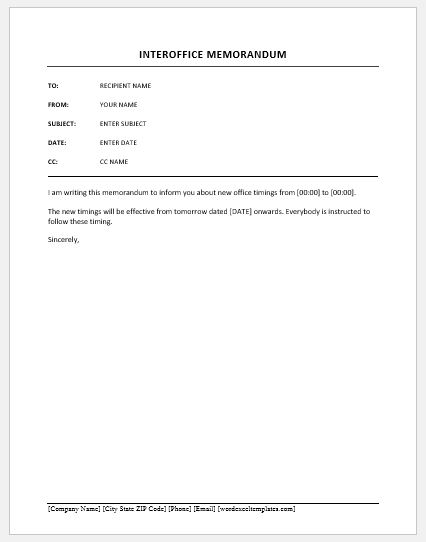 Change of Working Hours Memo
File: Word (.docx) 2007+ and iPad 
Size 60 Kb   | Download
[Personal Use Only]