The habits of a person play an important role in the workplace. The way an individual behaves, respond and communicate is indirectly associated with his nature and habits. One important trait of a habit is punctuality. Some people are habitual of punctuality. This is a remarkable habit. And, it proves very beneficial in the workplace.
The first and foremost requirement of almost all kind of workplaces is punctuality of time. Time is that parameter, which gives a sensation of comfort if utilized in a correct way. This comfort is a great blessing, as the things happened according to their assigned time are everlasting.
The workplace adheres to all the members from top to bottom to follow some policies. Such policies must be designed in such a way that they bring a sense of understanding and responsibility among the employees. Moreover, all head of the departments is obliged to make their crew follow the official instruction calmly and whole-heartedly. Despite, the employees must be given enough space to easily communicate if they are having some serious issues for not following the official timings.
If the workplace is facing the issue of time from the employees, they can write an adherence to office timings. In such letter, they can mention the relevant dates of not following the time policy. They can also mention the references to any warnings so far received by the relevant employee. They can also mention the delay facing in the submission of the assigned tasks.
The Circular#1
This letter is to inform all the workforces that you are supposed to follow the office timings firmly. If an employee is observed violating the office timing, the corporation would be on right to take severe actions against him/her. Furthermore, you are considered to mark your attendance with the precise timing of a routine activity on daily basis.
The management has observed that many of you are not following the office timing & laying-back all the warnings they have got in the form of warning notices. It is an in-disciplinary act which may clue to deferment in arranging the important documents by hindering in the way of relaxed functioning.
Deliberate postponement and the repetition of keeping the task incomplete should instantly be immobile. The employees are rigorously drilled to array all the awaiting exertions within the limited span of ten days. Additionally, an evaluation will be made regarding the improvement in the matter on coming Friday.
Preview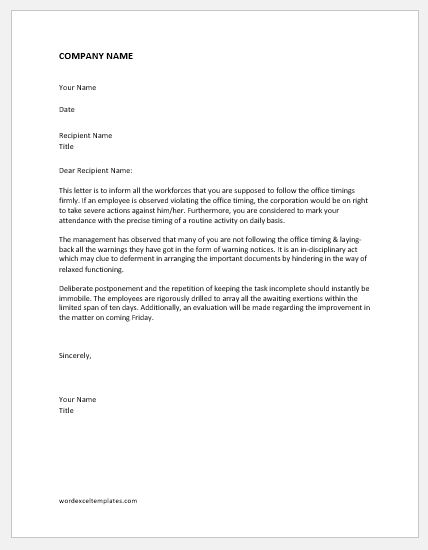 The Circular Template
File Size: 22 Kb | Download