Time is a phenomenon which keeps on going. It can never be stopped. That is why it is said to cherish time and take advantage of time. Time can be considered as a potential ingredient of all the surroundings. Correct utilization of time leads to success and satisfaction.
An individual who knows the correct utilization of time even in daily routine is much successful instead of those who just waste time. Additionally, all individuals must respect and acknowledge the importance of time rather than regretting in the long term.
The official rules are somewhat strict and somewhat relaxed. A sensible person can benefit from relaxed policies and follow strict policies diligently to achieve the required tasks assigned. But, all the members, employees and branch officers must be careful regarding the timings of office.
One must know about all the amendments in office timing schedule to avoid any hindrances. The extra-workings hours are sometimes assigned during crucial circumstances. The officials must be keeping notice to such timings also.
The workplace is supposed to provide all the important schedules clearly and on time to avoid misunderstandings. In return the officials are supposed to strictly follow the timing schedule, task schedule etc. sometimes many circumstances lead to amendments in timings. The notice must be sent to all the departments.
It must be ensured to deliver the new timing circular among all the members of a workplace. The reasons for changes can also be mentioned in such notice.
The Notice
Office timings are central for both, workers as well as bosses. This notice is sent to you to make you conscious of new timings set by the organization. We wish to establish permanent office timings which we want to make sure everyone follows. We anticipate that all of you should reach and leave the workplace in time.
The elementary plus of stable scheduling is that a very suitable harmonization among the staffs is developed. This timetable can also be hard-hitting and unpleasant for many workers who must perform multiple responsibilities in a bordered extent but with the passage of time, they will be habitual to perform multiple tasks in a very limited time.
Kindly take this letter as a reminder. New office hours are from 9:00 am to 6:00 pm. anyone who does not put up with this imperative might be subjected from warning to suspension in a short time period if warnings are not dealt timely.
The employees who will enter the office after 9:10 will be considered half day absent resulting in the half day pay deduction. For that reason, you are informed that new office timings will be valid right from the day after tomorrow dated [DATE] straight on.
We want our teams to work together with us so that a strong and vigorous functioning setting can be established.
Preview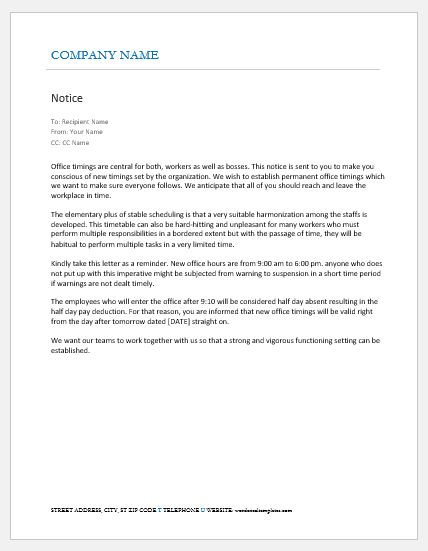 The Notice Template
File Size: 24 Kb | Download