The contracts and agreements play a connection role between two parties. A contract ensures the acceptance of the rendering of service to the other party who will avail of the services. The contract can be between an employee and an organization regarding employment status. It can be between different businesses, a wholesaler and a retailer, and many more.
An agreement has a lot of clauses, terms, and conditions that are important to read and understand. It must be signed after several meetings and mutual consent of both the parties.
Negotiation is an important part of signing an agreement. The valid points must be highlighted for a successful negotiation. The agreement serves as the main source of confirmation between both parties. If any issue or problem arises between the parties, the agreement can be used as a reference for resolving the issues.
The letter of agreement must be very carefully drafted to make sure that all-important points and clauses are included. One more factor to be considered is the payment amount, information, and details concerned with the binding agreement. The dedicated time period of an agreement must be kept into consideration.
Once, the time period of an agreement is about to end, a letter of renewal agreement is sent beforehand. Such a letter includes the name of both the parties, important details, and the time frame of the agreement. The request must include the reasons for the renewal. An in-time response can be requested. The desired changes in the renewal can also be mentioned.
The Letter #1
This letter is to notify you that I was appointed as an English Teacher for a period of two years which is about to expire the next month. During these years, I tried my finest to accomplish all the theoretical chucks. Furthermore, I have already sent you my key performance indicator report (KPI).
I request you to kindly renew my contract further as I have developed a great comfort level in this institute. I want to continue working with a professional team like yours. I believe that working under your supremacy will enhance my professional experience in the best possible way.
Kindly let me know if you require my services as an English teacher as I want to choose my impending calling either with you or wherever else though I have already told you my preference and interest in your institute.
Thank you for your confidence in me.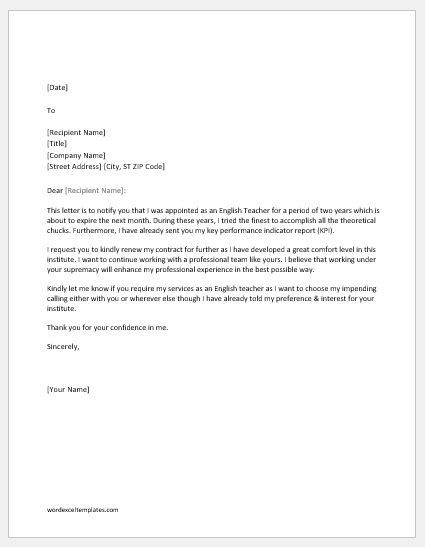 #2
Subject: Agreement renewal request for [X]
Dear Benjamin,
This is with reference to agreement number CC1098 between our parties. The term of our agreement will expire on [date]. I would request you to renew the contract for a further period of one year.
I have been forced to exercise this option owing to the best services you provided to our company. The last year has been very good for us in terms of our growth. Your excellent consultancy services helped us achieve our annual target. Working with you was a great experience indeed.
If you accept our request and are also interested in the renewal of the agreement, kindly inform us in writing. We would appreciate it if you respond no later than [date].
We are waiting for a positive response from your side.
#3
Dear Benjamin,
You are hereby informed that the termination date of our contract agreement is about to reach. It was signed between our parties on [date]. I am taking a moment to appreciate your great services in association with us. You have been working with us for the past three years and providing us with your best business consultancy services.  
Keeping in view your work, I would like to request you to extend the above-mentioned contract for a further period of one year. You are well aware of business ethics and complete every task professionally. We have established good relations during the past year. Your services are commendable and I hope you will again prove yourself beneficial to the company.
Please write us by [date] if you acknowledge our request and show your interest in renewing this agreement. We are waiting for your reply.
See also: