A fair and intelligent move of starting anything from scratch demands its complete planning and implementation according to that. This not only helps in achieving the desired target rather it becomes handy and beneficial even in accidental situations. Keeping flexibility in your plans is always preferred because it helps the people in adjusting themselves according to the haphazard situations. Therefore always devise a business plan, define the workflow and act according to it. These key principles are helpful in the personal and official life of a person.
One major thing related to lively people is their ultimate interest of traveling and exploring the world. Their love of tourism motivates them to travel miles over miles to reach their destination and far off places. This is a healthy and refreshing habit anyone develops an interest in. But this too demands proper planning and scheduling otherwise, it could turn into a life turning bad experience. For this reason, many guidelines are provided for those who are traveling the first time in their life or who are visiting a new place or with a new strategy. Travel expense calculators are one important mechanism in starting a healthy and peaceful journey.
Anyone who is going to visit some place must not forget his/her budget. It is very important to keep track of one's expenses. It is always recommended to prepare yourself for any unhappy situation and act in a way that prevents such occurrences rather than getting into it and finding solutions. This is the main and sole purpose of proper planning of anything. If you have an estimated list about your travel expenses you would less likely fall into any crestfallen situation. For automating this important feature and bringing ease to this amazing corner of life travel expense calculators were introduced. Different people calculate and estimate their expenses differently depending on their budget, their destination, lifestyle, and their adopted methods.
These expense calculators are quite handy and one would instantly get an estimation of his/her travel cost of next trip. Many online travel budget calculators are providing services to the users. All of them include few basic and generic questions that are essential for any trip. Therefore a traveler must take account of following few things:
The number of people in the trip.
The place they are traveling to.
Transportation means (Air travel, Car, Train etc.)
Accommodation (Hotel, farmhouse etc.)
Food/Meal.
Total days of the trip.
Currency exchange.
Tour guide's payment.
Charges of public transportation to be used at that place.
These are few things to be taken care of while traveling and these expense calculators provide you the estimation. It will give you the idea about how much budget is going to be used in your trip and will let you free of any embarrassment that may occur at new place due to poor planning and less budget.
Many online travel expense calculators will provide you your total travel budget in your standard currency by automatically converting them from your destination's currency. Everybody wants a tireless and comfortable journey and that demands proper planning and scheduling, therefore using these easy yet important features will never go in vain.
Preview & Details of Template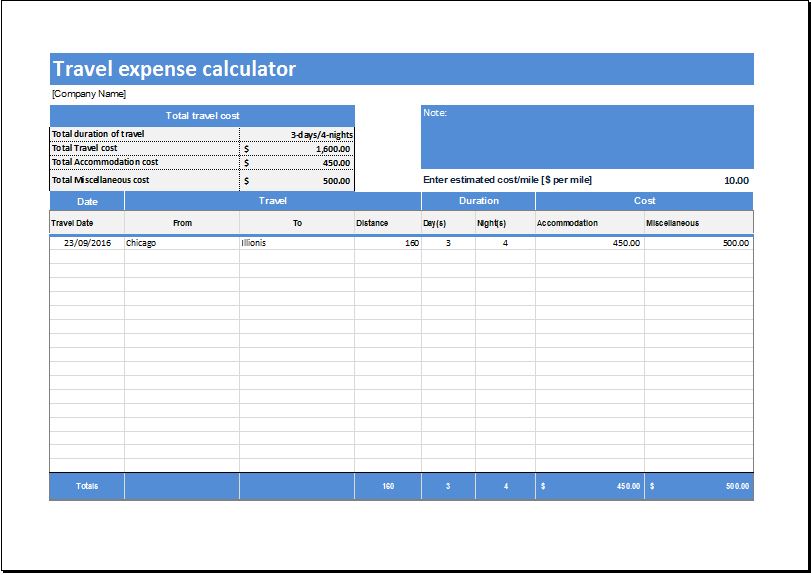 File: Word (.doc) 2007+ and iPad
Size 46 Kb   |  Download
File: OpenOffice (.odt) Writer [writer]
Size 11 Kb     | Download
License: ENERGY   (Personal Use Only)
(Not for resale and distribution) by Kate Elizabeth(CEO)
---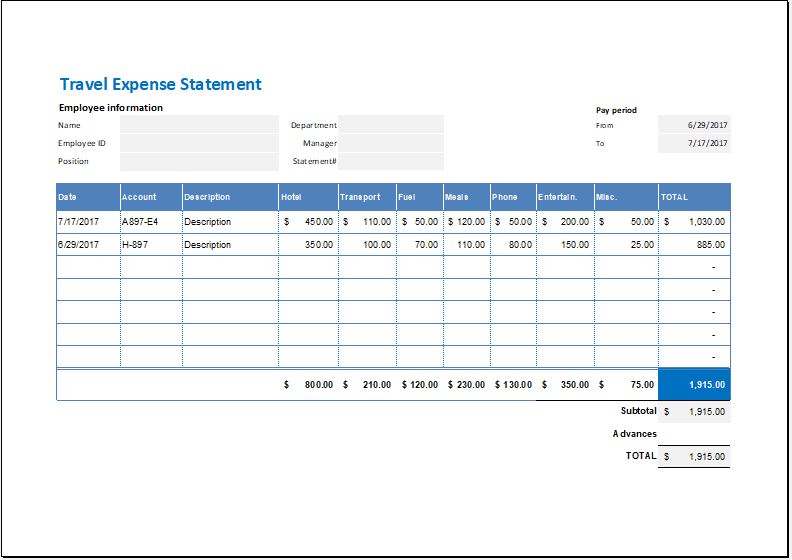 Travel Expense Statement
File: Excel (.doc) 2007+ and iPad
Size 46 Kb   |  Download