A grievance letter is very important in professional life because you can write them whenever you're having any problem. If there is an issue that you want to raise, writing a grievance letter will be the best choice of yours.
The purpose of writing this letter is to complain about anything that happened in the workplace. In other words, the grievance letter is a simple complaint letter.
A company will do all the investigation and evaluation of the information provided in the grievance letter. It is important for you to write this letter in a professional way including all the contents.
Tips for writing a grievance letter:
The letter should meet the basic requirements of a professionally written grievance letter. Here we are providing some tips to write the perfect grievance letter according to the rules of writing.
The letter should be written in such a way that all the information provided in it is to the point and give sufficient details about the complaint you are lodging. It is very important for the recipient of the letter to consider the problem mentioned in the letter and do a proper and timely evaluation to find out the root cause of the problem and sort it out.
Make sure that your grievance letter includes facts that are based on reality rather than assumptions.
Stay polite as much as possible while telling your problem. Avoid using abusive offensive language in the letter.
Since it is a grievance letter, it is important for you to express the issue or the problem you are facing in the workplace. However, you shouldn't be too emotional in this regard.
The letter should be ended with words of thanks and gratitude.
What are the main elements of a grievance letter?
Name and contact details of the employer
Name and contact details of the employees writing the grievance letter
Date and time of grievance occurrence
Name of the department where the incident occurred
Name of a witness if any
If you don't remember the exact date of occurrence of the incident، you can give proper hands to make it easier for The reader to understand it.
If there is any evidence to support your grievance, attached to the letter
End the letter with your names or signatures
Following are given sample grievance letters for various situations.
#1 Grievance Letter Against Supervisor
Dear Sam,
Hope this letter finds you in the best of your health.
I was thinking to raise one of my concerns during the Friday meeting. But I guess, I can't wait for that long. My supervisor, Maria was a wonderful person. But lately, she has been very weird to me and other people in the department. She has been playing politics around, which is making my staff very demotivated. I have tried to counsel her regarding this but I see no change in her behavior.
Not just politics, she is also breaking the policies of the company. Power and influence can get people to turn arrogant. Maria has been using her status for her benefit. She is promoting her friends and other people are just wasting all their efforts and not getting any results. My employees are coming to me with complaints and there is nothing I can do to make them feel better. It would be great if we could think of a resolution to this problem soon. With thanks.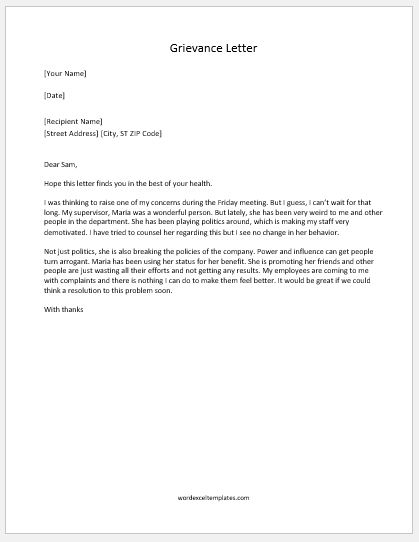 #2 Grievance Letter for Unfair Treatment
Dear Caterina,
Hope you're enjoying the new weather these days.
It's been long since we had a meeting together. I was trying to connect with you. But the overload of work is making it really hard. I am facing a very hard time at work these days. You have been my mentor and a great friend. I thought to share it with you.
I have always been an advocate of fair treatment for everyone despite their gender and race. However, I feel that I have been treated unfairly on various occasions. Before every meeting, I keep my suggestions ready, but I am never given the option. This has not only left me hurt but rather disappointed and demotivated as well. Like everyone, I have the right to share my concerns. Not having a voice has left me broke. I would want you to work on this and get every employee the right to have an equal voice. With thanks.
Jacqueline.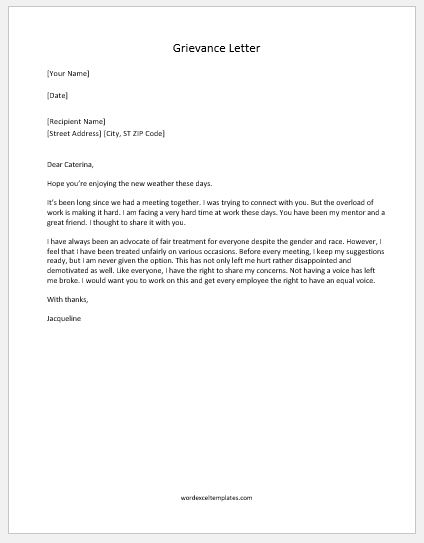 #3 Grievance Letter to Employer for Workload
Dear Sian,
How are you?
I have been trying to catch up with you, chasing you around. But I didn't get the opportunity to speak to you. I find myself a very hard-working person. Not just my own work, I have always tried to be very supportive of my colleagues as well. I am the one who always volunteers to cover for people absent from work.
As you know, James has left and we did not find a suitable replacement for him yet. This has left me with a lot of work. Even though I have been so helpful towards people, no one has vouched to help me. This overwork is making us work overtime even on weekends as well. This does not mean that I am running away from work. But a little help would be great now.
With thanks
Jamie