The absence of a teacher from school affects the entire day of students that's why principals never want their teachers to be absent from their jobs. The absence of a teacher also disturbs the momentum of learning of students because they are suddenly forced to be accustomed to a new personality.
These are the reasons why the absence of a teacher from school is always discouraged. However, when there is an emergency or something very urgent, it is the right of the teacher to ask for leave.
There are some specific circumstances when a teacher is required to be absent from school. These problems may be family problems, health or maternity issues, or taking a break in order to improve their physical or mental health.
Writing a leave application:
Whether or not a teacher will get a paid leave totally depends on the policies of the institute she is teaching in. It is important for a teacher to mention the type of leave she wants to take. If she needs to leave for taking care of her child, the principal can allow her to stay absent from school for a specific period of time. This type of leave is not granted to both parents.
Getting leave for one or two days is very common. However, if you want to get leave for a week or more, then you should read your employment contract so you can know the rules and regulations pertaining to asking for leave.
Make sure that delivers in accordance with the policies of the institute. If the institute demands you apply for leave one month before you should abide by the rules. The specific amount of time should also be mentioned in the leave application so that the principal can arrange an alternative.
Make sure that you have mentioned starting and ending dates in the application. The date on which you will resume your job also be stated on the leave. The teacher should complete all the pending tasks so that the principal can grant the leave without putting objections on anything.
The following letters will help you write a good one for yourself.
Letter -1
Teacher Leave Application to Principal for Sickness
Dear Mrs. Martha,
Hope this letter finds you in the best of your health.
I just visited the HR department yesterday to find out about my annual and casual leave balance. I was glad to know that I have a good amount of leave balance available. As you know, the past few months have been very hectic and tiring for me due to hiring new teachers and training them. It sounds easy, but it is a very difficult task.
But not just that, I was working along with other teachers on the result preparation for students and their appraisals. Meetings are very challenging for teachers as discussing the performance of students with parents always comes with mixed responses.
This very hectic and stressful work routine has made me fall sick. I had seen my doctor and he advised me to take bed rest for at least a week. This will help me regain my energy and get rid of any stress. He has also prescribed me some medicines which I have already started to take, and they are bringing improvement. I would like to apply for one week's sick leave. In my absence, Ms. Lucy will look after all my responsibilities.
I can be reached by email and call at any time.
With thanks
Dayana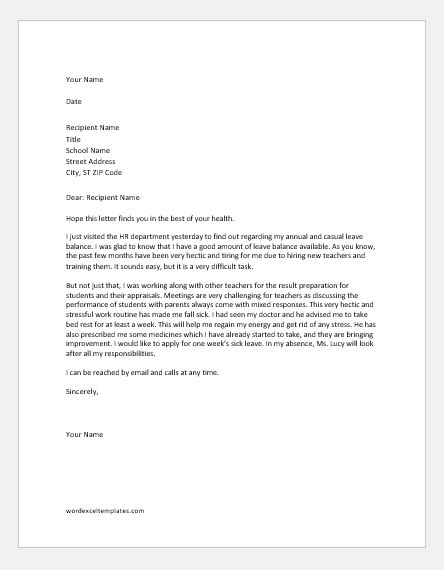 Letter -2
Teacher Casual Leave Application to Principal
Dear Mrs. Maggie,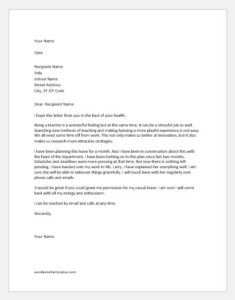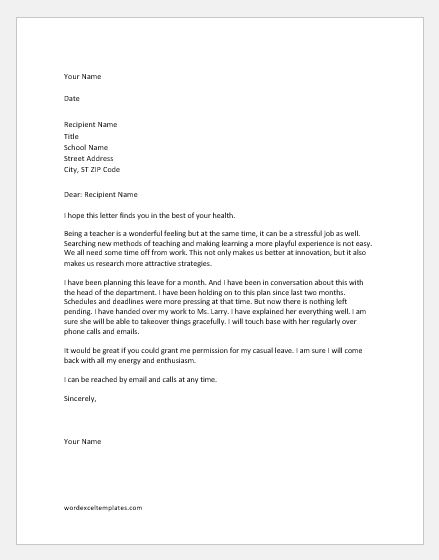 I hope this letter finds you in the best of your health.
Being a teacher is a wonderful feeling but at the same time, it can be a stressful job as well. Searching for new methods of teaching and making learning a more playful experience is not easy. We all need some time off from work. This not only makes us better at innovation but also makes us research more attractive strategies.
I have been planning this leave for a month. And I have been in conversation about this with the head of the department. I have been holding on to this plan for the last two months.
Schedules and deadlines were more pressing at that time. But now there is nothing left pending. I have handed over my work to Ms. Larry. I explained everything well. I am sure she will be able to take over things gracefully. I will touch base with her regularly over phone calls and emails.
It would be great if you could grant me permission for my casual leave. I am sure I will come back with all my energy and enthusiasm. I can be reached any time by email and call.
With thanks