Reaching the deadline for the job is very important. Many organizations also evaluate the performance of an employee based on this attribute.
There are different other things in an organization which is related to the project that is being accomplished by a person. It is the obligation of the employee to submit the project on time. Sometimes, the employees are unable to meet the deadline due to many reasons. Not being able to submit work on time can create a lot of problems in the workplace.
The organization may face inconvenience. This type of problem is often faced by employees. They are needed to fix this problem if they want to save their job. The best thing they can do to solve the issue of tardiness in the submission of a project is to write an apology letter.
Importance of writing an apology letter
The employees often write an apology letter to their employer when they don't meet the deadline due to any reason. The purpose of apologizing is to solve the problem.
Writing an apology letter is the best way of communication between the employer and employee when the employee does not want the employer to judge him. Moreover, it is also very effective for those people who want to keep a good relationship with their employer.
Here is a sample apology letter for you that you can use to save your time. If this letter is not in accordance with your situation, you can modify it to customize it according to your needs.
Sample Letter -1
Subject:
Respected Sir,
Please accept my apologies for being late in submitting the project. I intended to submit my work last Monday. However, due to some emergency, I could not do so. My mother was not feeling well, and I had to take her to another city for medication.
I promise that this will never happen again. Please accept my apologies for showing unintentional tardiness. I look forward to your consideration.
Yours sincerely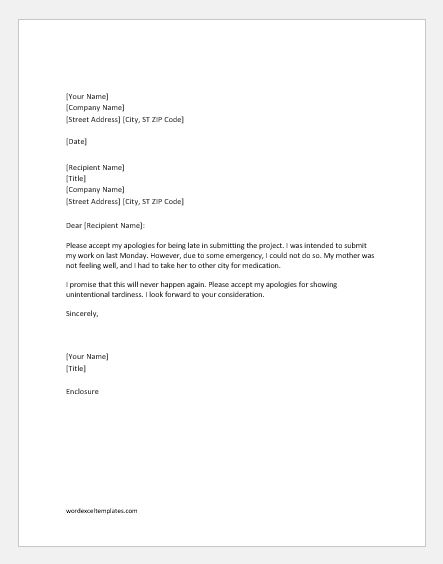 Sample Letter -2
I am regretted submitting the project [PROJECT NAME] late. The project was due to submit on November 23rd however it is November 28 today and I apologize for the tardiness caused because of me.
I had an unexpected family event that consumes most of my time and I couldn't focus on the project. The nature of the event was such that I couldn't avoid participating. I hope you will understand my situation.
I assure you to complete the project in one day's time and will submit it to the [DEPARTMENT] on November 30 at the earliest.
Yours sincerely.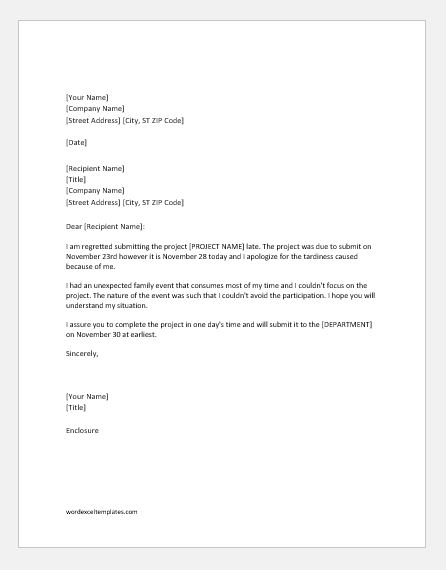 Sample Letter -3
Apology letter in response to the warning letter issued for late submission of the project
I am writing this in response to a warning letter issued to me dated [DATE] for tardiness in submitting the project [TITLE].
I apologize for submitting the project late. I had some unavoidable circumstances that cause me not to work on the project at my full. I assure you that this will not happen again as I must fulfill my professional responsibilities without delay.
Currently, I am taking up the project [TITLE] and will convince you to appreciate my work by completing it on time.
Yours sincerely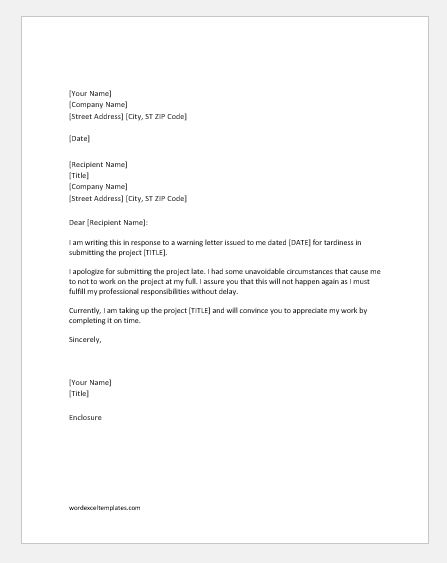 Sample Letter -4
Explanation letter for late submission of project/report
Mr. John allocated me the project [TITLE] on July 3rd when I was already occupied with other work. The project [OTHER TITLE] was due to complete on July 05 and I and my team was working to finish it on time.
I requested Mr. John not to allocate me the project [TITLE] now as I may not be able to complete it on time, however, he didn't agree.
Meanwhile, I started working on this new project but couldn't complete it on time although I tried my best. The reason for the delay was as I mentioned above that I had less time to complete it.
I have always taken my responsibilities seriously and this delay of submission was obvious. Hope it helps to clear my situation and the management must keep confidence in my abilities and good doing.