What is resignation letter?
A resignation letter is a formal document which is used by employees for officially announcing their decision to leave the job. A resignation letter is the basic need of every employee when he decides to move on.
It is very important for every employee to know how to move on. When you know how to write a professional looking resignation letter, you are able to leave the job on good terms with your employer.
Tips for writing a resignation letter
A resignation letter is a formal document so it should always be kept in mind that it should be friendly but a little formal.
Most of the people it is very hard while showing complete professionalism at the same time. It is always very important for you to keep a good relationship with your boss because you may be in need of your boss's reference later.
Always keep yourself clear in stating your intentions. If you are writing this letter with the intention to resign from the job, be open about it.  It is very important for you to sound confident when you make a decision regarding leaving the job. This will save you from the discomfort that you may face if you give any hope to your boss that there is a choice that you will stay on.
It is the demand of every organization that the employees give a proper notice before leaving. It is the responsibility of an employee to give reasonable time to the organization for filling his space.
Always make sure that you make the employer know that you appreciate the time spent working with him. It is not important to show your dissatisfaction with the company. You can simply say thank you and show your gratitude towards your boss.
You can also offer the help to your boss in the transition process.
If you have any question in your mind regarding anything, you can ask your employer in the resignation letter.
Always use business letter format to make your letter look professional.
Letter -1
Resignation letter due to delay in salary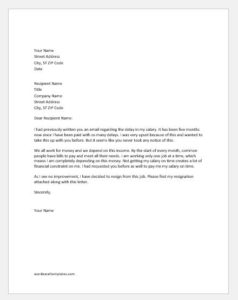 Dear Mark,
I had previously written you an email regarding the delay in my salary. It has been five months now since I have been paid with so many delays. I was very upset because of this and wanted to take this up with you before. But it seems like you never took any notice of this.
We all work for money and we depend on this income. By the start of every month, common people have bills to pay and meet all their needs. I am working only one job at a time, which means I am completely depending on this money. Not getting my salary on time creates a lot of financial constraint on me. I had requested you before as well to pay me my salary on time.
As I see no improvement, I have decided to resign from this job. Please find my resignation attached along with this letter. Download
Letter -2
Resignation letter for exam preparation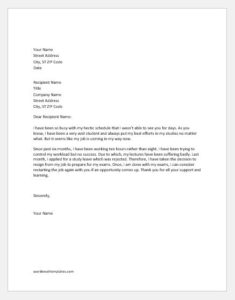 I have been so busy with my hectic schedule that I wasn't able to see you for days. As you know, I have been a very avid student and always put my best efforts in my studies no matter what. But it seems like my job is coming my way now.
Since past six months, I have been working ten hours rather than eight. I have been trying to control my workload but no success. Due to which, my lectures have been suffering badly. Last month, I applied for a study leave which was rejected. Therefore, I have taken the decision to resign from my job to prepare for my exams. Once, I am done with my exams, I can consider restarting the job again with you if an opportunity comes up. Thank you for all your support and learning. Download
With thanks
Letter -3
Resignation letter due to non-payment of salary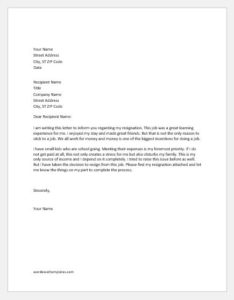 I am writing this letter to inform you regarding my resignation. This job was a great learning experience for me. I enjoyed my stay and made great friends. But that is not the only reason to stick to a job. We all work for money and money is one of the biggest incentives for doing a job.
I have small kids who are school going. Meeting their expenses is my foremost priority. If I do not get paid at all, this not only creates a stress for me but also disturbs my family. This is my only source of income and I depend on it completely. I tried to raise this issue before as well. But I have taken the decision to resign from this job. Please find my resignation attached and let me know the things on my part to complete the process. Download
With thanks
Resignation Letter for Workplace Environment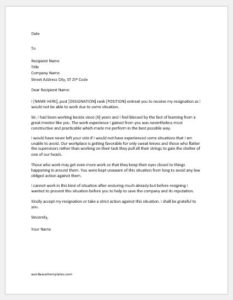 I [NAME HERE], post [DESIGNATION] rank [POSITION] entreat you to receive my resignation as I would not be able to work due to some situation.
Sir, I had been working beside since [X] years and I feel blessed by the fact of learning from a great mentor like you. The work experience I gained from you was nevertheless most constructive and practicable which made me perform in the best possible way.
I would have never left your side if I would not have experienced some situations that I am unable to avoid. Our workplace is getting favorable for only sweat knives and those who flatter the supervisors rather than working on their task they pull all their strings to gain the shelter of one of our heads.
Those who work may get even more work so that they keep their eyes closed to things happening in around them. You were kept unaware of this situation from long to avoid any law obliged action against them.
I cannot work in this kind of situation after enduring much already but before resigning I wanted to present this situation before you to help to save the company and its reputation.
Kindly accept my resignation or take a strict action against this situation. I shall be grateful to you. Download