Low salary complaint letter is written when you are not satisfied with your salary. The company may not be increasing your salary or there may be any other reason. You can easily complain to your boss if the concerned department is not hearing your problem.
How to write the low salary complaint letter?
The complaint letter is usually written in a formal tone. The complaint letter should be able to effectively frame the issue that you have. It should be able to make your boss understand your situation. Here are few tips regarding writing an effective complaint letter:
You should be clear in your statement in the letter. Make sure that you add the details in the letter in a concise way. The details of the problem should be addressed properly.
State it in the letter that you will wait for the response. Also, state that how long you can wait for a response.
The tone of the letter should not be angry either sarcastic. Your boss may take your letter serious if you write it in a polite yet firm tone.
If there is any relevant documentation to support your problem, include it in the letter. If you have had the conversation with the account department head regarding your low salary problem, attach it to the complaint letter.
Add all your contact details and personal information such as name, phone number, employment ID number etc. in the letter so that your boss will identify you.
Sample letter:
Date
Dear Sir,
I am writing this letter to complain you about the low salary. I would like to request you for a meeting so that we can negotiate on it. I have been working as sales manager in the sales department from last 7 years.
I have come to know recently that my salary is not at the level of my position. The increment in my salary is also too low.
If you find any problem in my performance, I am ready to be evaluated. I am looking forward to speaking with you on this matter.
Yours sincerely
Preview and Details of Template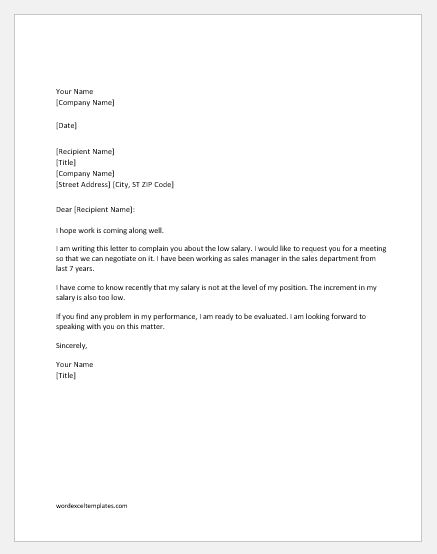 Sample Letter
Size: 29 KB MS Word format