A low salary complaint letter is written when you are not satisfied with your salary. The company may not be increasing your salary or there may be any other reason. You can easily complain to your boss if the concerned department is not hearing your problem.
How to write a low-salary complaint letter?
The complaint letter is usually written in a formal tone. The complaint letter should be able to effectively frame the issue that you have. It should be able to make your boss understand your situation. Here are a few tips regarding writing an effective complaint letter:
You should be clear in your statement in the letter. Make sure that you add the details in the letter in a concise way. The details of the problem should be addressed properly.
State in the letter that you will wait for the response. Also, state how long you can wait for a response.
The tone of the letter should not be angry or sarcastic. Your boss may take your letter seriously if you write it in a polite yet firm tone.
If there is any relevant documentation to support your problem, include it in the letter. If you have had a conversation with the account department head regarding your low salary problem, attach it to the complaint letter.
Add all your contact details and personal information such as name, phone number, employment ID number, etc. in the letter so that your boss will identify you.
Sample letter:
Date
Dear Sir,
I am writing this letter to complain to you about the low salary. I would like to request a meeting so that we can negotiate on it. I have been working as a sales manager in the sales department for the last seven years.
I have come to know recently that my salary is not at the level of my position. The increment in my salary is also too low.
If you find any problem in my performance, I am ready to be evaluated. I am looking forward to speaking with you on this matter.
Yours sincerely
Preview and Details of Template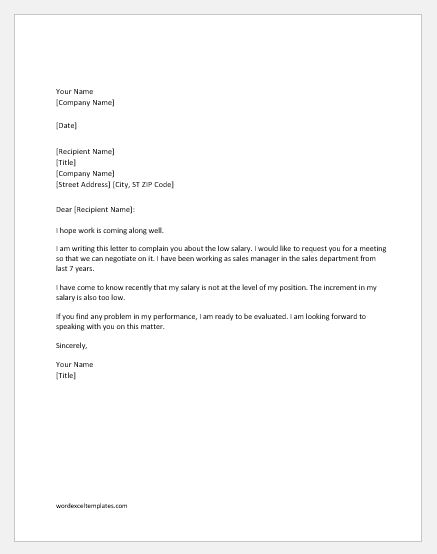 Size: 29 KB MS Word format
More letters
#1
Dear Sir, this letter intends to request you to increase my salary. It has been three years now I am working in your institute. I was informed during my joining that the salary will get increased after every six months. It has been a year now but I am sticking to my old salary. It is very difficult for me to make both ends meet within the given salary. I end up taking debt at the end of the month. With this message, I want to pay your attention to this matter. I hope you will give serious consideration to my request.
#2
With this message, I want to grab your attention towards my low salary. I want to meet you in person to thrash out things thoroughly. I was told by HR that my salary has been increased but it was not credited to my account. I make a formal request to you to please look into the matter and issue me a full salary. I am a salary-based person and meet all expenses within the given salary. With the current hike in prices, I am managing things with much difficulty. It would be a great favor for me if you look into the matter with immediate attention.
#3
I am David Kim and working as a sales assistant in your corporation. It is an honor for me to work under your supreme guidance and I am equipped with new learning skills. In our last meeting, you told that the salaries will be increased by next month. Nothing has been done in this regard and I received a 10% reduction in my salary. I talked with the branch manager about the matter and he referred me to you. I want you to make an increase in my current salary. I adapt myself into any role you want me to assume and I always remain available in time of need. I hope this additional information will help you to take the matter seriously.
#4
I would like to draw your attention to a serious matter about my salary arbitration. I want to ask if there is a probability of an increase in my salary. I am giving my services as accounts manager and the salary I am given is very low as compared to other contemporaries. I am facing great trouble in managing the expenses due to the low salary budget. If you are not satisfied with my work execution then we can meet in person to discuss things. I am waiting eagerly for your response.
#5
This message serves to make you a formal request to increase my salary. I have been teaching computer science at your institute for more than three years. The salary I am given is not according to my expectations. Even I take extra classes when there is a need and remain available to students and staff whenever they need me. But I get a very low salary that is not up to my mark. I request you to please do something in this regard and make a good increase in my salary.