Changing the salary transfer method is not so complicated process. However, if the company is big enough, it can take time. The best thing to do a request for this change is to write a letter to HR department which is responsible for carrying out the process.
There can be many reasons for which you will have to write the request letter for changing the salary transfer method through a bank account.
As an employee, you may want the company to transfer your salary from one bank account to another. You may also want the salary to be transferred in bank accounts around the world.
It is very easy to use the bank account for transferring the salary. Most of the companies prefer using this method. The salary transfer through a bank is more secure and safe because the sender and receiver both identify each other.
Tips for writing this letter:
The letter should be started with a right salutation
Keep the letter to the point and concise
Add the details about your account where the company sends the salary
Add the details of the method that you want to use for salary transfer
Add all your personal details so that the reader can identify you
Add the subject in the letter at the top to make it easy for the reader to know what this letter for is.
Keep your tone polite and formal
Write the letter on the letterhead of the company to keep it more formal look
Sample letter -1:
Dear Sir,
Subject:
This letter is a formal request letter for changing the salary transfer method for me as the current method is not so convenient. The forms, my new account details, my salary slip, and some other related documents have been enclosed with the letter. I will appreciate your timely attention to this issue. I can be reached easily through my phone number [312-xxx-0987] and my email address [EMAIL].
Preview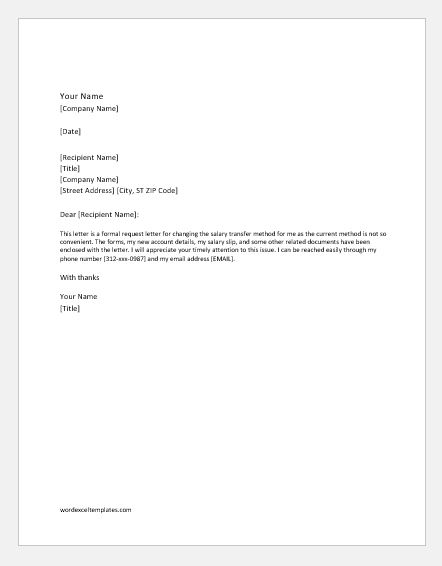 Sample Letter
Size: 24 KB Format: MS Word
---
Sample Letter -2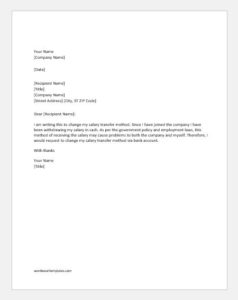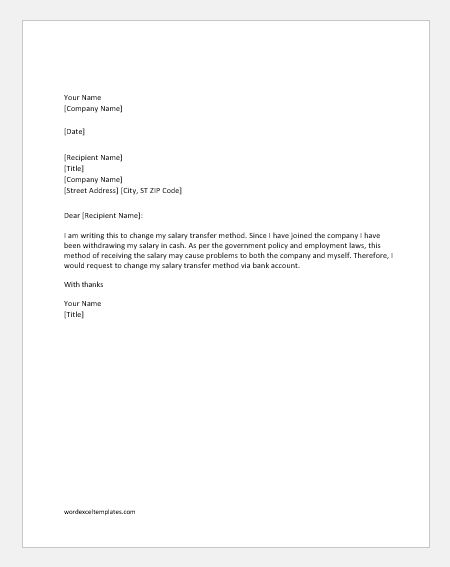 I am writing this to change my salary transfer method. Since I have joined the company I have been withdrawing my salary in cash. As per the government policy and employment laws, this method of receiving the salary may cause problems to both the company and myself. Therefore, I would request to change my salary transfer method via bank account.
My bank account details are attached to this letter.
---
Sample Letter -3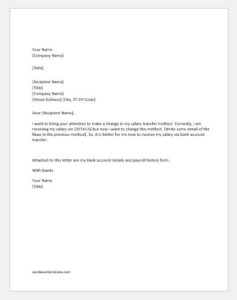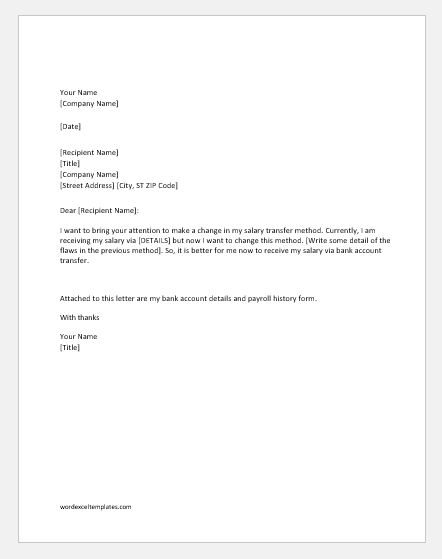 I want to bring your attention to make a change in my salary transfer method. Currently, I am receiving my salary via [DETAILS] but now I want to change this method. [Write some detail of the flaws in the previous method]. So, it is better for me now to receive my salary via bank account transfer.
Attached to this letter are my bank account details and payroll history form.