Secret Santa emails are very popular in the season of Christmas. Everyone start receiving such emails from the start of December.
Secret Santa is a game which enables the players to exchange their gifts with the group members without buying a gift for individuals. The secret Santa emails are sent to different people to invite them to the game.
Through secret Santa email, you can spread around the happiness of Christmas to sending gifts to those people who are not in your list normally. If you want different people to participate in this game, send them an invitation through the email.
This email contains a simple invitation. The format of the game should also be explained to the receiver. The email should not be too long as nobody wants to read long emails. It is better to add a catchy subject to the email so that it can compel the receiver to read the email.
How to send the secret Santa email?
Here are few steps that you can follow to send an email to anyone.
Get the list of names from your office or from your friend's circle.
Determine the amount of money you should spend on gifts.
Determine when will the gifts be distributed.
Create a location where the group of people will leave the gift anonymously.
If there is any rule that you want to make for this game, you can use your creativity. You can also get the idea from others about these rules.
Tips to write Santa secret email:
It should be kept in mind that it's only you who knows about this secret. The email that you are sending should not be named as secret Santa email.
The price limit of the gifts should be included in the email. Not mentioning the price limit creates confusions for many people.
It is not important to give all the details in the email. You can ask them to wait for more details. This will keep your email concise.
Sample Emails
#1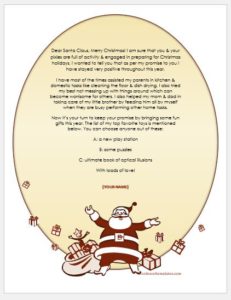 Dear Santa Claus, Merry Christmas! I am sure that you & your pixies are full of activity & engaged in preparing for Christmas holidays. I wanted to tell you that as per my promise to you I have stayed very positive throughout this year.
I have most of the times assisted my parents in kitchen & domestic tasks like cleaning the floor & dish drying. I also tried my best not messing up with things around which can become worrisome for others. I also helped my mom & dad in taking care of my little brother by feeding him all by myself when they are busy performing other home tasks.
Now it's your turn to keep your promise by bringing some fun gifts this year. The list of my top favorite toys is mentioned below. You can choose anyone out of these:
A: a new play station
B: some puzzles
C: ultimate book of optical illusions
With loads of love!
[Name]
#2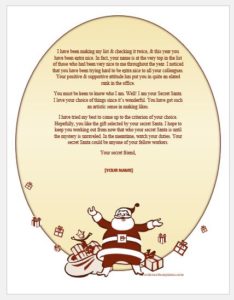 I have been making my list & checking it twice, & this year you have been extra nice. In fact, your name is at the very top in the list of those who had been very nice to me throughout the year. I noticed that you have been trying hard to be extra nice to all your colleagues. Your positive & supportive attitude has put you in quite an elated rank in the office.
You must be keen to know who I am. Well! I am your Secret Santa. I love your choice of things since it's wonderful. You have got such an artistic sense in making likes. I have tried my best to come up to the criterion of your choice. Hopefully, you like the gift selected by your secret Santa. I hope to keep you working out from now that who your secret Santa is until the mystery is unraveled. In the meantime, watch your duties. Your secret Santa could be anyone of your fellow workers. Download
Your secret friend.