Return to school excuse note from a doctor is an excuse letter written to inform and excuse the presence of the child to the school authorities. The excuse note is written to the school authorities only when the reason behind absence is an illness or any kind of ailment.
The doctor can write as a certified person informing the school about the child's absence on the grounds of any disease due to which the child is unable to attend the school. Such kind of letter is considered more valid as written by the doctor but it is written only when the absence of the child takes long. Two samples are given in the following:
Sample -1
Re. Excuse for the Absence
Dear Jackson,
I am Will Jex from Stoller Housings, Brooklyn, New York. I am an Orthopedic Surgeon certified from the Linux Hospital, New York City. I am writing this letter to you as a consultant doctor of Mike Jingo who is a student in your school. He is studying in grade 8 with Media Studies and Geography.
I want to excuse his absence from school because of his illness. During the vacation period, Mike fell from the lobby stairs and broke his ankle. He was brought to me and I came to know, after examination, that not only the ankle is broken but also one of cuboid bone was cracked. The cracked bones will take at least a fortnight to get a fix. The purpose of writing to you is to excuse the school return. I completely comprehend the school concerns over the absence of the children but as I have told you above, Mike cannot walk for at least fifteen days and he has to observe complete cautionary measures to take full care of his foot and get heal in time.
I hope you understand the situation and will grant him fifteen days' leave. Mike is a brilliant student and I hope that he can make it up to the missed classwork. For further, please visit my clinic at Linux Hospital, NYC, or dial [X], Thank you.
Sincerely,
Signature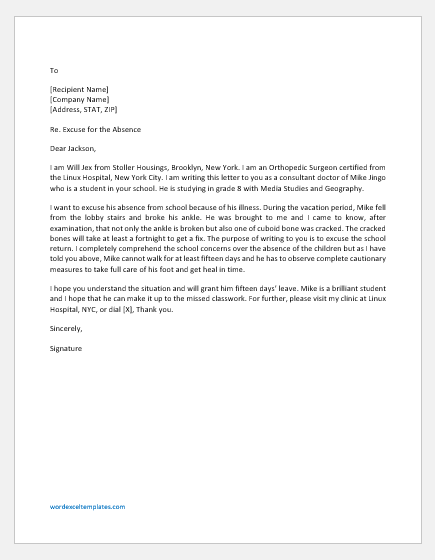 File: Word (.docx) 2007+ and iPad
Size 21 Kb
Download
---
Sample -2
Re. Excuse from School
Dear Jenny,
I am Mickroad Nelson from Brooklyn, New York. I am a doctor by profession and currently, I am working in the Optometry Section of Hex Jemal Hospital, New York City. I am practicing there since 2013 as a senior Optometric Surgeon. My purpose in writing this letter to you is to excuse Matilda's absence from school. Matilda Shaw is a student of grade 5 in your school with registration number 432H9.
Matilda was brought to me on 6th April 20XX and I was told that a few drops of very strong acid got into her eyes accidentally while doing some house chore experiment. Her eyes got a serious infection and I had to recommend surgery looking at the severity of the conditions. Luckily, it was a minor surgery and I was able to save her sight. Due to suppression in eyes, she is unable to work normally for the next ten days. I have recommended her complete rest to eyes and no strenuous activity for the next ten days.
I excuse her absence on her behalf due to the graveness of the problem she just suffered. Write to me on [X] for any further query or school assistance. Thank you.
Sincerely,
Signature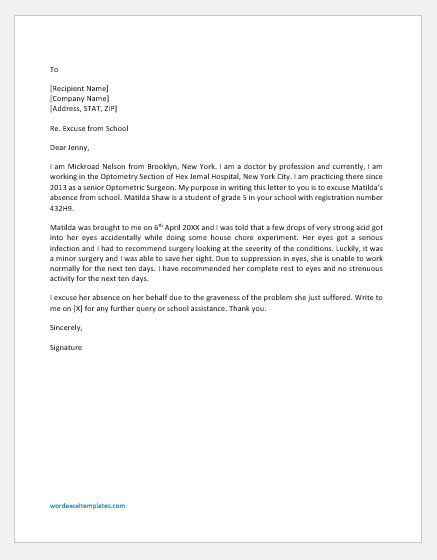 File: Word (.docx) 2007+ and iPad
Size 20 Kb
Download
---