A proposal letter is written to offer your idea or services to a company, organization, institution, health clinic, or any tech company in which one highlights the need and feasibility of the product/services to perform certain job/task. While writing such kind of letter one needs to address the authoritative person and communicate his/her idea, service, or other business concern in a professional manner. A proposal letter to the hospital for manpower is written to the hospital admin, MS, or any other most senior faculty member to highlight the need for recruitment of persons to perform various jobs at the hospital.
Manpower is the number of people working in a specific field. As security companies provide security services through security guards along with security equipment, similarly any business holder can offer to provide his/her business services or concepts to the other.
Proposal letter to the hospital for manpower can be written to provide various services depending on the business one owns. It can be:
Laymen
Nurses (male or female)
Security guards
Cleaner and housekeeping
While making such a proposal, always communicate your business in a clear, lucid, and unambiguous manner. Address the other person in an amicable tone and assure the quality of your services.
Following are two sample letters given;
Sample -1
Re. Proposal of Manpower for the Health Clinic
Dear Robert,
This letter is written to you to offer you the quality and worth-ranked services of our company. Armed Men Security provides security to different institutions, companies, industries, residential areas, colonies, towns, and private security for other purposes. The company is well known for its standard and quality services beyond the city.
We offer you cleaners and housekeepers with very affordable and reasonable prices. Also, the company welcomes various forms of contracts and modifications in service whenever needed. The company is licensed and certified by the US Security Certifications and National Actions. Further, the company has various distinctions on the basis of people's reviews, and that is why it has become people's first choice.
We would love to extend our offers to you by proposing a 5% discount on security services. We owe some of the excellent and competent workers with whom you would love to work. For any kind of information or queries, feel free to call our General Manager at [X] or email us at [X] or visit our website [X].
I am looking forward to your kind response. Thank you
Sincerely,
Signature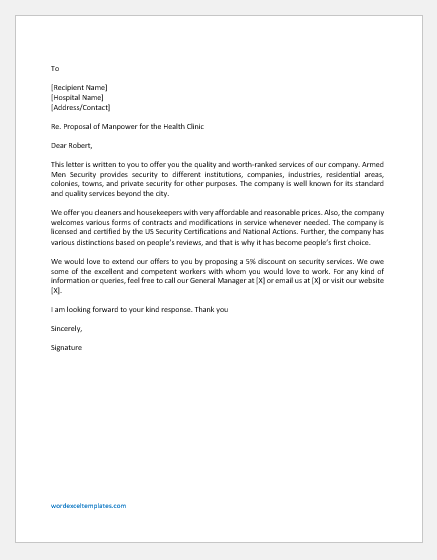 File: Word (.docx) 2007+ and iPad
Size 21 Kb
Download
---
Sample -2
Re. Proposal of Manpower for the Hospital
Dear Ceram,
I am glad to interact with you via this letter and I am delighted to inform you that our company, GIKA Strum, is offering your hospital budget-friendly services in the shape of competent and affordable housekeepers.
Our company is well-known for the efficiency of the services it has been providing since 1984. We have our four other offices operating in different states of the US. Moreover, the company is completely certified and licensed, displaying requisites on our website. Kindly respond if you feel interested. Moreover, the company is giving a 5% discount in the month of June, July, and August. For further details, visit us at [website], write to us for any query at [email].
Your response shall be awaited
Thank you
Sincerely,
The General Manager
GIKA Strum Services Providers
Nicholas Heart Square, New York City, US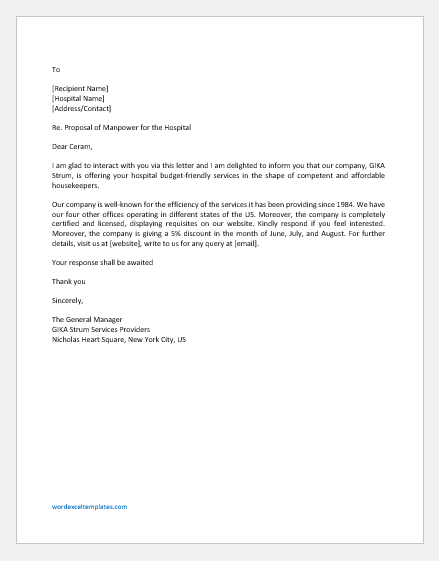 File: Word (.docx) 2007+ and iPad
Size 18 Kb
Download
---