The workplace is equally responsible to provide as much ease to all the members as is demanded from the entire staff. The collective effort from both ends contributes to the success and good reputation. Hence, if one end is faulty, the other end will automatically be having trouble.
Thus, it all leads to mismanagement as well as poor performances. The higher authorities i.e. the bosses need to be much more polite and communicative towards the entire staff. Each staff member comes for the job with respect and dignity. If they are not given the deserved respect, the workplace tends to get a big failure.
Many times, the rude and humiliating behavior of the boss leads to a resignation letter. The resignation letter is sent in many cases like:
When the boss continues to disregard the morale of the staff through taunts and humiliation.
When the boss always talks in rude behavior during meetings and open sessions.
When the boss always insults the employees and staff regardless of any serious concern.
Hence, many situations like these can lead to the decision to resign. Once a resignation is noticed, the concerned managers are also answerable to the senior management for the reasons.
The resignation letter contains the details of the reason. The employees can also give a reference for their good conduct and behavior as a reference in such a letter. The letter is brief, formal, and laconic.
A general resignation template is attached here.
Template
I am disappointedly mentioning that I am leaving the company in two weeks' time. [Mention date] would be my last day at the company. There are multiple reasons for taking this decision, but the rude behavior of the highest authority prevailed and forced me to finalize things accordingly.
It is my self-respect & integrity that matters to me the most. I cannot allow anyone to insult me time and again for no good reason. Being the boss does not officially or ethically allow you to be rude to your employees come what may. There are better ways to make your employees work according to your criteria. Working here overall was not a bad experience. I would appreciate it if you would accelerate my exit forms and last salary as soon as possible.
Thank you for providing me the chance of working with your company.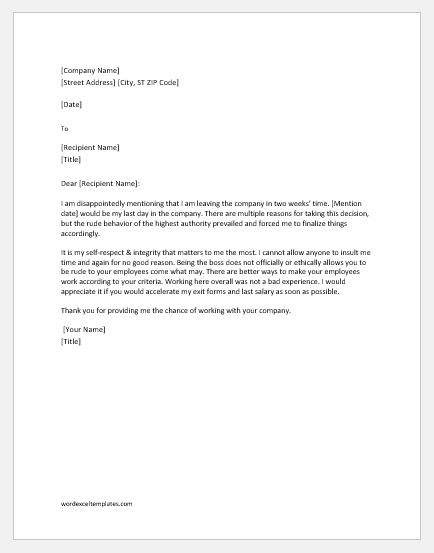 See also: