#1
The human resource department has bought this to our attention that you have been coming late to work every day. You must know that we are a company which belief in discipline and following policies. This is a serious breach of the rules and very unprofessional as well. As per the policy, if you are late to work for any reason you must report to your line manager. Upon inquiring from your line manager, he never got notified by you for being late.
Please take this letter as a warning and we expect you to improve your behavior in the future.
#2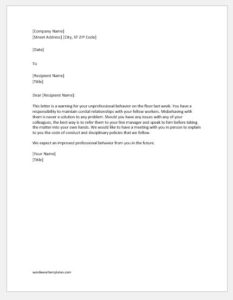 This letter is a warning for your unprofessional behavior on the floor last week. You have a responsibility to maintain cordial relationships with your fellow workers. Misbehaving with them is never a solution to any problem. Should you have any issues with any of your colleagues, the best way is to refer them to your line manager and speak to him before taking the matter into your own hands. We would like to have a meeting with you in person to explain to you the code of conduct and disciplinary policies that we follow.
We expect an improved professional behavior from you in the future.
---
#3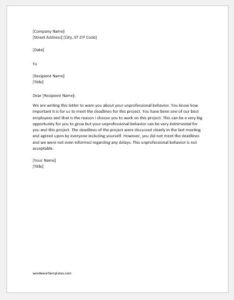 We are writing this letter to warn you about your unprofessional behavior. You know how important it is for us to meet the deadlines for this project. You have been one of our best employees and that is the reason I choose you to work on this project. This can be a very big opportunity for you to grow but your unprofessional behavior can be very detrimental for you and this project. The deadlines of the project were discussed clearly in the last meeting and agreed upon by everyone including yourself. However, you did not meet the deadlines and we were not even informed regarding any delays. This unprofessional behavior is not acceptable.
---
#4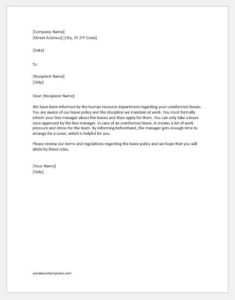 We have been informed by the human resource department regarding your uninformed leaves. You are aware of our leave policy and the discipline we maintain at work. You must formally inform your line manager about the leaves and then apply for them. You can only take a leave once approved by the line manager. In case of an uninformed leave, it creates a lot of work pressure and stress for the team. By informing beforehand, the manager gets enough time to arrange for a cover, which is helpful for you.
Please review our terms and regulations regarding the leave policy and we hope that you will abide by these rules.
---
#5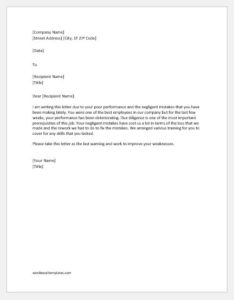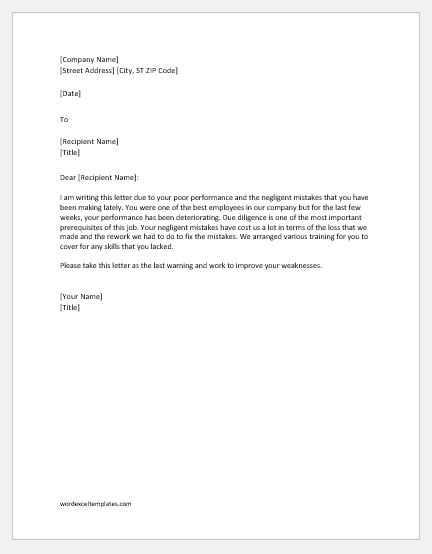 I am writing this letter due to your poor performance and the negligent mistakes that you have been making lately. You were one of the best employees in our company but for the last few weeks, your performance has been deteriorating. Due diligence is one of the most important prerequisites of this job. Your negligent mistakes have cost us a lot in terms of the loss that we made and the rework we had to do to fix the mistakes. We arranged various training for you to cover for any skills that you lacked.
Please take this letter as the last warning and work to improve your weaknesses.