Many new and innovative activities are very important for a student's career such as volunteering. Many students think that providing community services is not worth the time because they do not get paid just like normal jobs. However, there are many benefits of community services.
Community service is provided by students to benefit the public or a specific community. The job of community services is chosen because you want to work for a good cause. There are many positive effects on a student working for the community.
Many schools require their students to do community servicing to get their graduation done. Many schools don't granted degree unless you don't provide proof of working for the community.
The community services jobs also required by the students to get admission in college or university because many universities like to admit the students who are involved in the activities that will make the world a better place for others.
No matter you want to get admission in a college requiring you to provide proof of volunteer work for the community or you want to get a graduate degree in your Institute, you are required to get a community service verification letter.
You can write a request letter to a charitable organization to request for the community service verification letter. Or you can write a request letter to community service authorities to issue a ''community service verification letter'' to your name. This letter serves as a proof that you have worked for the community.
---
Sample letter -1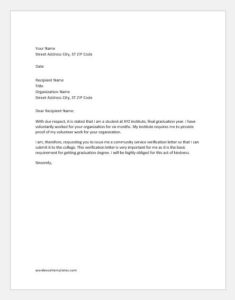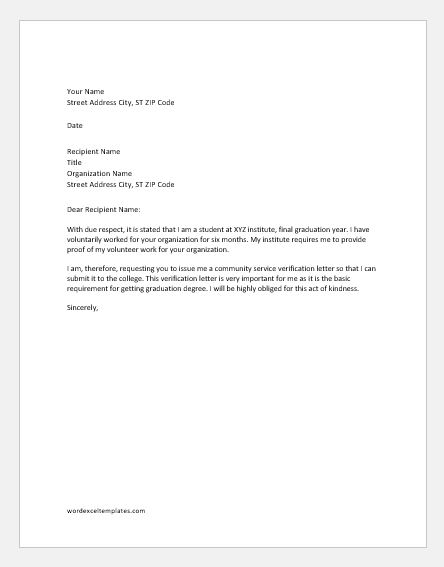 With due respect, it is stated that I am a student at XYZ institute, final graduation year. I have voluntarily worked for your organization for six months. My institute requires me to provide proof of my volunteer work for your organization.
I am, therefore, requesting you to issue me a community service verification letter so that I can submit it to the college. This verification letter is very important for me as it is the basic requirement for getting graduation degree. I will be highly obliged for this act of kindness.
Regards
---
Sample Letter -2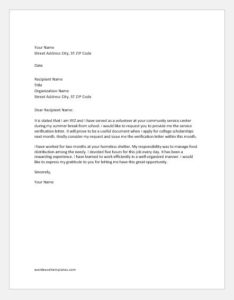 It is stated that I am XYZ and I have served as a volunteer at your community service center during my summer break from school. I would like to request you to provide me the service verification letter. It will prove to be a useful document when I apply for college scholarships next month. Kindly consider my request and issue me the verification letter within this month.
I have worked for two months at your homeless shelter. My responsibility was to manage food distribution among the needy. I devoted five hours for this job every day. It has been a rewarding experience. I have learned to work efficiently in a well-organized manner. I would like to express my gratitude to you for letting me have this great opportunity.