Contractors are individuals who took responsibility for performing a task for someone on decided terms and conditions. Either they perform the project themselves or put a workforce to complete the task. The basic job is to perform good and provide adequate services to the customer.
If you are someone who took services of a contractor and feels s/he has not performed as per the contract you can write a formal letter to the contractor. The letter states the drawback and flaws found in the completion of the project.
Writing a letter is a professional and formal way of communication. Written documents and correspondence is very important as it can be used for legal actions if required.
Following is a sample letter that you can utilize to write to a contractor if you suffered the same situation anyway.
Sample letter
I am writing this letter to make a complaint about your unsatisfactory work while renovating my kitchen. I hired you for the job after hearing some good reviews about you from my acquaintances and friends. You might have done a good job for them, but it has been a very disappointing experience for me.
I am discussing and highlighting the problems below. I will appreciate if you go through it and offer a solution.
Firstly, it is the poor quality of the materials you have used which is highly unsatisfying. It has only been a month since the completion of the job and the floor tiles have already begun to crack. Same is the case with the countertop marble. It has started chipping off from the corners. In addition, the paint done on the ceiling is also coming off. The poor quality of these materials proves that you must have picked cheap priced materials from the market despite charging me full.
Apart from the low quality of the used materials, the installation job has also been done quite poorly. The tiles are coming off while the handles of some of the kitchen cabinets are loose. All in all, my new kitchen is an utterly disappointing mess.
I now demand rectification of the mentioned problems or a complete refund. I have been facing a great deal of inconvenience due to all these problems. In case I don't hear from you within a week, I am afraid I will not be recommending you to any of the people I know and further reporting to an attorney.
I expect you to show a professional attitude and offer solutions to fix the discussed issues.
Preview and Details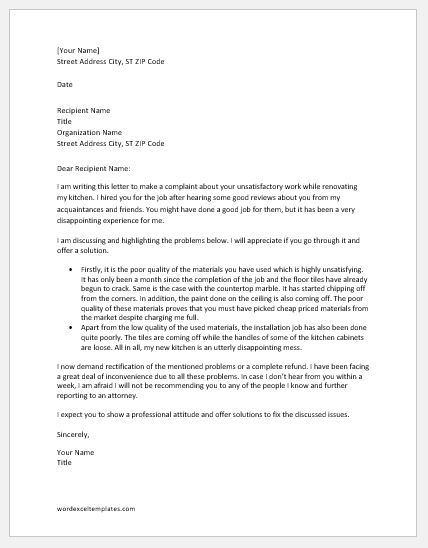 The Letter Template
File: Word (.docx) 2007+ and iPad 
Size 32 Kb   | Download
[Personal Use Only]