A contract is a voluntary agreement which is enforceable by law. All the terms and condition of the contract are agreed upon by both parties.
It is important for both parties to abide by those terms. In case any of the parties breaches the contract, the other party has a right to file a lawsuit against the party that breached the contract.
The letter should include the details regarding the breach. The letter should include the contact details of the recipient, subject and the details of the contract that has been breached.
Key elements of the letter:
There are primarily 4 basic elements of this letter.
The letter should be written in such a way that the existence of the contract can be proved through it.
It should also be stated in the letter that the suing party has performed it's all obligations
It should also be stated that the other party has failed to perform its duties
The details about the damages that you and your business have faced due to the breach should also be given in the complaint letter.
The best approach is to describe both the parties, their obligations, and goals.
Also mention the details about the damages, the estimated amount required to compensate the damages and a lot more.
Sample Letter -1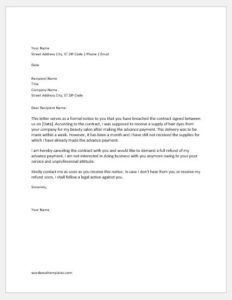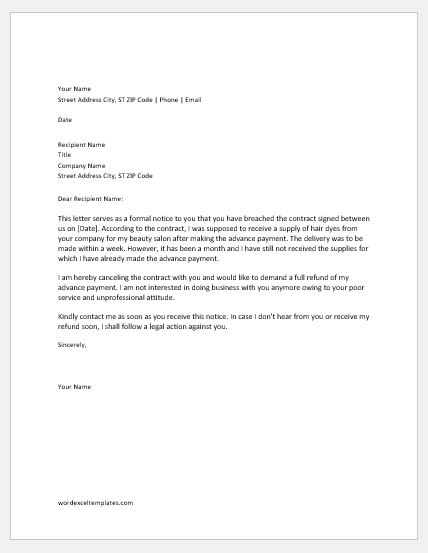 This letter serves as a formal notice to you that you have breached the contract signed between us on [Date]. According to the contract, I was supposed to receive a supply of hair dyes from your company for my beauty salon after making the advance payment. The delivery was to be made within a week. However, it has been a month and I have still not received the supplies for which I have already made the advance payment.
I am hereby canceling the contract with you and would like to demand a full refund of my advance payment. I am not interested in doing business with you anymore owing to your poor service and unprofessional attitude.
Kindly contact me as soon as you receive this notice. In case I don't hear from you or receive my refund soon, I shall follow a legal action against you.
---
Sample Letter -2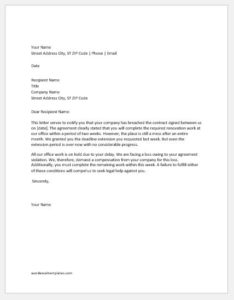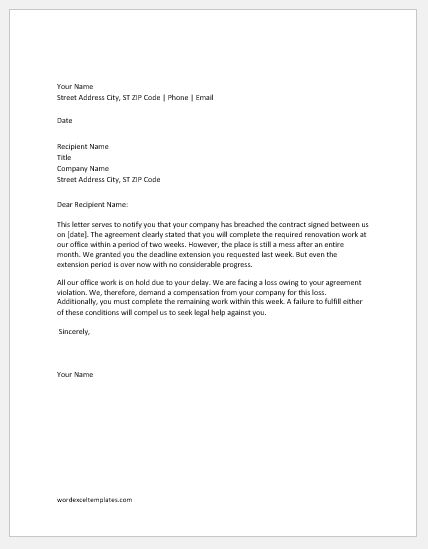 This letter serves to notify you that your company has breached the contract signed between us on [date]. The agreement clearly stated that you will complete the required renovation work at our office within a period of two weeks. However, the place is still a mess after an entire month. We granted you the deadline extension you requested last week. But even the extension period is over now with no considerable progress.
All our office work is on hold due to your delay. We are facing a loss owing to your agreement violation. We, therefore, demand a compensation from your company for this loss. Additionally, you must complete the remaining work within this week. A failure to fulfill either of these conditions will compel us to seek legal help against you.